A new baby needs qualitative products to sleep, cozy, safe, and healthy. One of the best helpers for the new moms and a comfortable way for our little ones to sleep is a baby sleep sack. In this article, I am sharing with you the 16 Best Sleep Sacks of 2021 that you can find in the market, in high quality, at an affordable price.
"As the owner of this website, I've tracked down great deals for the products and services mentioned herein. When you use the links on this page to make a purchase, I may get a small commission, and you may get a worth bargain. It's a win-win all around. Thank you for supporting this site. FYI- Prices and Terms of the products refer to the date of the publication of this article. Full disclosure.
What is the Baby Sleeping Sack?
A Baby Sleep Sack is a comfortable product to keep your little one warm, cozy, and helping to sleep better and safe. The sleeping sack or bag is a wearable blanket to support the baby sleep on his back, with the right shape and size for comfortable feet move and healthy hip development. It is a great and perfect product in high-quality fabric and material for the swaddle transition and the maximal commodity for newborn sleep. A baby sleep sack is maximal support for a mother to be less worried, creating maximal conditions that our little one to sleep well, safe, and healthy.
Why we need a Baby Sleep Sack for the newborn baby?
Safe- First, A baby sleep sack keeps our little one safer because we don't need to use blankets and cover our baby when we use a sleep sack. In this way, we protect our newborn from the risk of suffocation and SIDS.
Practicality-A baby sleep sack is a great helper for the mother to keep her little one better. In the first days, a newborn baby is so small that using a swaddle blanket or a baby sack helps to take him lightly. Using a sleep sack is lightly diaper and baby's clothes change, practical and convenient for every season and area.
Healthy and comfortable – A Sleep Sack helps to wear our baby rightly, keeping warm and not sweating. We can find the right sleep sack for every climatic weather. In the first month, a newborn baby's body temperature is much delicate, and for this fact, we need to keep our little one warm, and at the same time, not sweating. A baby sleep sack offers us all these facilities, a wearable blanket that helps to keep our newborn cozy and healthy.
Quality guaranteed– I think that a mother must care not only to wear the right quantity of outfits, but also the quality. Because there are two ways to keep a baby warm, one is to wear it right, and the other to care that our baby does not sweat by wearing organic and cotton clothes and using only cotton nursery items. And the best thing is that the best designs and products in baby sleep sacks are from high-quality fabric, mostly organic cotton, to guarantee our littles healthy and safe every time.
What type of Baby Sleep Sack must we use?
There are so many designs and sleep sacks products in the market to choose from, meeting your requirements and budget, but the main features that a good baby sleep sack must-have, is the material and quality. You need to buy a cotton sleep sack, and better if it is an organic one, which is much safer, healthier, and comfortable for the baby skin.
The second criterion for choosing it is practicality. The product must be easy to use, with snap closure for wearing or a zipper system to close and open it for a diaper change and simple access to your baby.
The third is the baby age. There are baby sacks that grow with your baby, offering the possibility to use for one year or two. But for the first months, it is better to purchase and choose the proper newborn age size.
The fourth that I consider in choosing a baby sleep sack is the design to be sleeveless for no overheating my baby during his sleep, being in this way healthier and safer.
What is the right age to use a baby sleep sack?
I consider the most usable and necessary baby sleep sack in the first months or the entire first year. My daughter enjoys so much using the sleeping sack in this period. But, you can also find a sleep sack for your toddler up to four years old or longer.
I recommend to use it if your toddler does not like to wear footed pajamas in the cold season or does not prefer to cover. In these cases, a baby sleeping sack is a great solution to keep our little ones warm and comfortable all night and during nap time.
Stay with me and learn more about these best designs and products to buy for your baby from birth and growing up. I included in my list the best baby and toddler sleeping sacks.
Best Baby Sleeping Sack of 2021
#1.Best Choice of Hospital Nursery- Halo Sleepsack Cotton Wearable Blanket
Halo is used by hospital nurseries as the first trusted choice for the baby sleep safe, comfortable, not overheated with no sleeves for arms, and hand free to use. The fabric is 100% cotton with a TOG rating of 0.5, and it is perfect for a warmer climate. It features a bottom zipper for an easy diaper change. It features an embroidery, Back is Best, to remind every parent to put the baby to sleep on his back for safe sleep and SIDS risk-free. The sack dimensions and shape ensure proper baby's hips development, and it replaces loose blankets. Halo offers four sizes to choose separate by six months each of them. This one is the medium size, suitable for the baby from 6 -12 months old.
#2.Best in Climate Pledge Friendly-Burt's Bees Baby – Beekeeper Wearable Blanket
It is the best seller on Amazon, a rue to size product in high-quality cotton, with 0.5 TOG, being perfect for the warm season. The fabric is organic and GOTS certified cotton, breathable, and skin-friendly to prevent any issues with a baby's sensitive skin. The design is arm and hand free to avoid overheating during the baby sleep. The size offers comfort and safe sleep, and the zipper opens from the bottom and front for lightly diaper change and easy usage. It comes in 11 different patterns, and you can choose and order the right size for your baby, between the small, medium, and large size. You can order the product from both to 18 months old, and every size is suitable for six months. It is the best quality at the most affordable price.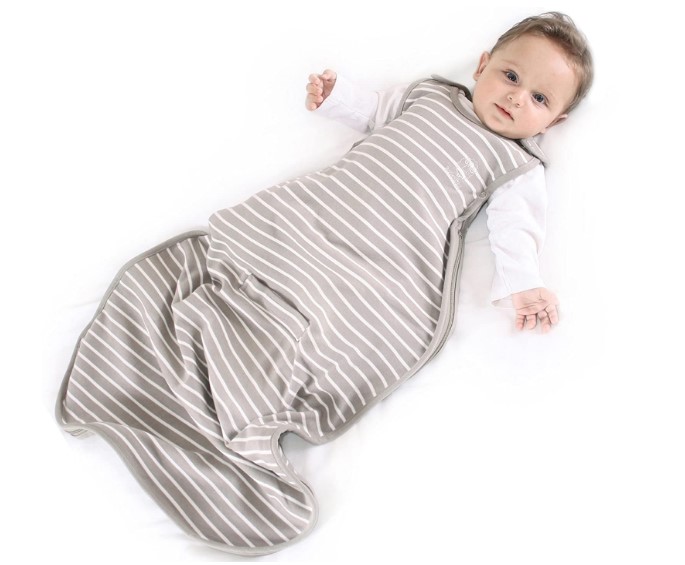 #3.Best in Australian Merino Wool- Woolino 4 Season Baby Sleep Bag Sack
It is one of the best baby sleep sacks, and most liked designs by the Woolino brand, suitable from the second month of a newborn age up to two age of two years old. It is the best seller and top-rated in the USA and Canada for ten years now, and has awards from Creative Child in 2018 and the winner of the Mom Choice Award.
The sack is 100% Merino Wool inside part, and 100% GOTS certified Organic Cotton on the Outer one. It has a universal size for a long term of use up to 24 months, and it is comfortable for all year and every season. The product is a high-quality material with optimal weight merino wool, which regulates your little one body temperature. It is versatile with double shoulders snaps and a two-way zipper system to make the dressing and diaper change simpler than ever. It improves and encourages your baby sleeping, and it is also easy to use in the baby seat car and features closable seat-belt slots for easy transfer between stroller, bouncer, crib, etc. It is one of the best products for the swaddle transition, features all the tools to grow with your baby.
#4.Best super soft organic cotton-Mezoome Organic Cotton Sleep Sack
This design is by 100% organic cotton, super soft and comfortable, which keeps your little one snug and cozy and comfortable for the feet movement. It comes in one color in the back and a colorful, unique printing in the front. You can choose in three various colors finish, Coral, Turquoise, and Gray. The sack features a warm lining between the front printing to provide warming and a commodity for your little one. The design comes in snap shoulders closure for easy putting on and off, and the feet part is in a wide shape to allow your little one to move his feet when he likes. It is suitable for a newborn baby from birth up to six months old. It is an Israelian product, and it is US free shipping.
#5.Best in the Weight Distribution across sizes and safe for all sleep positions- Nested Bean Zen Sack – Gently Weighted Sleep Sacks
This design by Nested Bean is perfect for cooler weather with 2.5 TOG, and it is a great helper for the transition of the newborn baby from the swaddle. The product is from high-quality cotton and poly-fiber filling, and it mimics the pressure that the baby feels held by the mother. It distributes very well the baby weight, so, for the first 15 months, the baby weight contained within the chick in the front of this sleep sack, and for the period 15-24 months, the baby weight distributes across his chest. This pattern is the best and safe for all types of sleep positions. Within it, your little one can sleep safely in the back, side, tummy sleep.
You can find your baby proper size from birth up to 24 months old, and this one is suitable for the first six months. It features shoulder snaps for growing with your baby and a two-way zipper system for easy use and diaper change. The company offers professional customer services for any issue or questions that you may have about the product.
#6.Best in Light Weight-Baby Deedee Sleep Nest Lite, Sleeping Bag Sack
This design by Baby Deedee made in the USA in 100% high-quality cotton, light, and breathable with a TOG of 0.6, makes it the best choice for the summer and warm climates. It is an original Sleepnest brand baby sleeping sack, which features a cocoon shape with a soft and breathable fabric for a comfortable and safe sleep. The product features shoulders snaps and a zipper in the front for easy use. The sack offers hands and arms free for your baby move, and the shape is comfortable for the feet moves. It is friendly to use with air-conditioned homes, and the room temperature must be 70-80 degrees. It comes in three sizes suitable from birth up to 36 months old. It is machine washable in cold water.
#7.Best in Bamboo Rayon Mimics-GUNAMUNA Baby Sleep Bag, Premium Duvet Sack
It is a new design for 2020, being available to the market only three months ago, and it is liked and loved by the parents for the high quality and simple usability and usage. It can use for both a baby boy or girl, offering comfort and better sleeping time for your little ones. The breathable, hypoallergenic bamboo rayon that is 95% of the material used offers high comfort, cozy, longer, and a larger space for your baby to move his feet and hips in this sleeping bag. It features a TOG rating of 2.6, being in this way super warm for the cold weather. The product certified by Oeko-Tex Standard 100 and meets JPMA safety standards. The product comes with seven patterns to choose from sizes three months old baby up to 36 months old, and this one is suitable for the size 18-24 months old. The zipper at the bottom of the sleeping sack permits easy change of the diaper and easy access to the baby.
#8.Best For Babies Who Prefer To Sleep With Arms Up- Amazing Baby Transitional Swaddle with Half-Length Sleeves and Mitten Cuffs.
It is one of the best for the newborn baby that prefers to sleep with arms up, and it offers a cozy and smoothy swaddle transition. The half-long sleeves are a brilliant solution for the newborns, and they feature the fold up over the baby's hand and convert into warm mittens for your little one to keep his little hands warm and safe. It offers a safe sleeping time, supporting the baby's sleep on the back. It is a US patent and is the right sleeping bag for the first six months, and you can buy it in two sizes, the small one for the baby from birth to three months old and the medium for three to six months old. The fabric is premium cotton for a cozy, warm, and healthy sleep.
#9.Best Lightweight in 2 Packs Sleeveless-TILLYOU Breathable Cotton Baby Wearable Blanket
This design in small size form the TILLYOU store is the best lightweight made in premium natural cotton, which comes in 2 pack sleep sacks for your newborn boy. It features a two-way zipper system for a diaper change and simple wearing, and it has enough room place for your baby feet to move for all the suitable age to use it. You can find this design available from birth up to 24 months, and each size can fit for every six months of the baby age. This one is suitable for the toddler 12-18 months old. The product approves by OEKO-TEX, offering high-quality, softness, and comfort for your little one, and with TOG 0.5, it is perfect to use in the warm seasons. It is machine washable, and the fabric and satin used can clean fast every time. The product comes with one year of quality warranty, professional customer service 24/7, and 30 days money-back guarantee if you are not satisfied after purchasing it.
#10.Best in Newborn Swaddle Blanket-Comfy Cubs 3 Pack Infant Sleep Sack Wrap Newborn Babies
This sleep sack from Comfy Cubs is a helpful product for the parents in the first months, a swaddle blanket that helps the newborn baby to sleep comfy, warm, and safe. The material is 100% cotton, soft, breathable, and comfortable. It features a feet pocket and two adjustable sides with hook-and-loop tabs that fasten securely over the newborn chest for a cozy, reassuring fit.t It wraps your baby and helps him to learn self-soothe. You can order it in two sizes for 0-3 months old and 3-6 months old. This one is the small-medium size, suitable from birth to three months old, or for a baby that weighs from 7-14 pounds and up to 26 inches tall. The set includes three sleep sacks that come in a beautiful gift box, being in this way an attractive gift for a baby shower and new mothers to be. The product comes in high-quality to last and uses for more than one baby.
#11.Best comfort stroller sleeping bag- Stroller Trotter – Luxury Stroller footmuff and Sleeping Bag
This one, from Stroller Trotter, developed in collaboration and tested by parents from the USA and Canada, who use daily winter stroller cover for their babies. It comes in universal fit, suitable for baby and toddler, easy to install, and is from luxury cotton velvet fleece inside part and water repellent hi-tech oxford shell on the outside, which makes it perfect to use for outside in every situation. It is the best choice for sleeping time and footmuff for the stroller usage by your toddler, and it features a two-way zipper system for easy use and moving freely inside the sack. It also features an extra inner lining on the inside part that use for wind stopping and, at the same time, protect the smaller ones from not moving too much and keeping them safe. The back of this sleeping bag features a safety velcro system that ensures you installing it and fixing harness stroller in three and a five-point of hardness. It has additional fixing straps to prevent it from sliding down or drag along the stroller wheels. The hoodie of this sleeping bag completes it, guarantees commodity, warmness, and keeping the humidity away from your little one.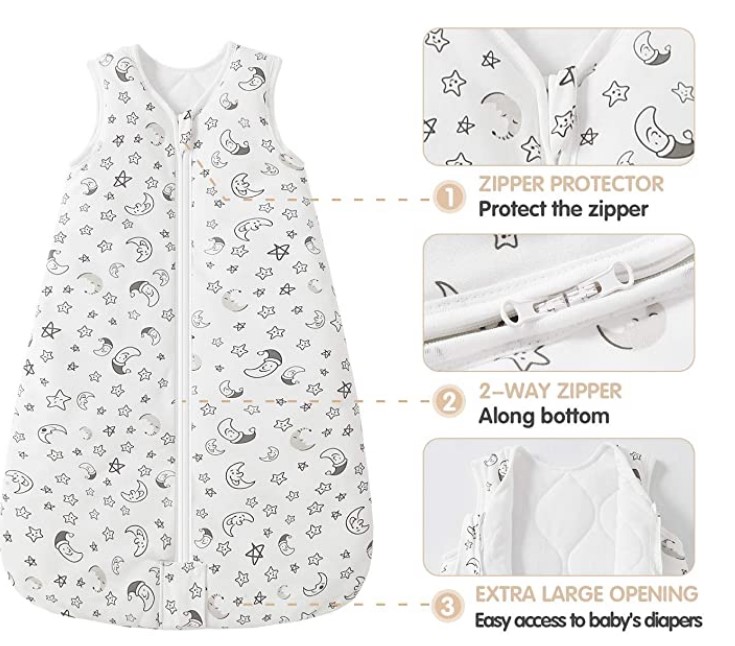 #12.New Best Winter Baby Sleep Sack-Mosebears Sleep Sack
The Mosebear sleep sack is one of the best for the winter and cold weather. It is a new product that launches in the market only two months ago, and the parents like it for the quality and the affordable price. It is soft and cozy, with a TOG 2.5 and sleeveless to keep your baby warm, and at the same time to not overheating during sleep. The nursery temperature recommended to be from 58-69 F. It features a two-way zipper system for fast wearing and a diaper change. The design offers a lot of room and space for the little one to move the feet and to be warm all night. The product is true to size, and you can order it for a baby from birth up to 24 months old. Every product size is suitable for six months old.
#13.Best in Sleeping Sack with feet-Woolino 4 Season Baby Sleeping Sack with feet.
It is one of the best sleeping sacks with feet designed by Woolino made for babies from six months old up to four years old. This one is the size for toddlers 3-4 years old. The material is Australian merino wool for the lining and GOTS certified organic cotton for the outer. It is 100% natural, luxuriously soft, hypoallergenic, and temperature regulating for your baby, and it is perfect to use in every season and weather climate. This design with feet opening is helpful for the toddler during the waking time, for easy movement. The product comes for you within six months of warranty from a USA company, which also offer a professional customer service.
#14.Happiest Baby SNOO Sleep Sack
This one is top-rated in the USA in a swaddle blanket for healthy hip development on the newborn baby, designed by Dr. Harvey Karp, one of the best pediatricians in the USA. It is 100% organic cotton, a soft and comfortable swaddle blanket, part of the Happiest Snoo products. Your newborn baby with it and the SNOO Sleeper Bassinet can improve and resolve all sleep issues, and in just five seconds swaddle, it offers your baby a longer sleep and promotes self-soothing. It considers the easiest, safest, fastest, escape-proof baby swaddle wrap. It is breathable and no overheating for your little ones, with an opening to the baby's shoulders, it is secure and comfortable, helping every new mother to worry less about her baby's sleep. You can order it in three sizes: small, medium, and large. The sleep sack features a two-way zipper system for a diaper change and easy use.
#15.Best winter sleep sack infant and toddler -BABYINABAG Baby Sleeping Bag and Sack
This baby sleep sack is one of the best for the winter and cold weather, and it comes in three sizes: 3-11 months old, 10-24 months, and 2-3 years old. The fabric is 100% cotton for the inside part and polyester on the outside. It comes sleeveless for not overheating the baby during the sleep, and the TOG is 2.5, high-quality for the cold season. The zipper is YKK high quality, in one way, with pulls to keep away from the baby's mouth or chin. It recommended measuring your little one before purchasing and to order the right size, not bigger. The shape offers a large room for the baby's feet movement and kicking. It is machine washable for easy care and cleaning.
#16.Solly Baby Sleep Gown
The Solly Baby Sleep Gown is suitable for the first quarterly of the newborn baby life, light, and breathable form the same silky-soft Lenzing modal fabric as for the Solly Baby Wraps. This type of baby sleep sack is friendly and easy to use with a knotted tail for a diaper change, and the neckless can open at the same size as the gown for lightly wearing by both sides. The sleeves can fold to protect the baby from scratches and keep him warm and cozy. It is helpful and comfortable for the mother to hold her baby in the first month and a safe product for the baby's sleep.
Conclusions about Best Sleep Sacks of 2021
At the end of this article, I want to add that a baby sleep sack or bag is helpful for both baby and mother, guaranteed a safe, cozy, comfortable, no overheating, and healthy sleep for the baby, and fewer worries for the parents. My two baby sleep sacks that my daughter used during the first year were a gift for her birth, but a baby sleep sack, like every other baby product, is a beautiful gift for this Season's holiday and Christmas. So, if you have babies in the family or are welcoming a newborn baby soon, I recommend considering a baby sleep sack as a gift idea for this Christmas. I hope that this article is helpful for you to choose and get all the necessary information for each of these Best Sleep Sacks of 2021.
Thank you very much for reading, and If you like this article, please feel free to share or leave a comment or question. I appreciate your opinion.
Best
Alketa