Are you looking for Christmas Gift Ideas For A 3 Year Old Girl for this season holiday? Christmas is even nearer, and every new day brings us close to the season holiday. Are you ready for this Christmas? Did you start to choose or already shop your Christmas gifts for your family and kids?
My daughter is three years old, and she will be four at the start of the New Year. So, I like to satisfy her wishes, finding the best gifts for my little princess. For this, I wrote this article with 18 cute Christmas Gifts for a toddler girl. I want to be helpful for all mums that have a daughter or niece from two to four years old or older.
If you have a toddler daughter like me, and you still need some help with your best choices, then take a minute and read below to find some cute ideas for this season's holiday.
Furthermore, the best of this list is that most of these gift ideas are fun to gift for every occasion, a birthday, thanksgiving, or other family ceremony.
Related Article-Best Christmas Toys For 2020
Another Related Article-The 12 Beautiful Family Matching Christmas Pajamas Of This Season
Related Article-Christmas Dresses For Girls
"As the owner of this website, I've tracked down great deals for the products and services mentioned herein. When you use the links on this page to make a purchase, I may get a small commission, and you may get a worth bargain. It's a win-win all around. Thank you for supporting this site. FYI- Prices and Terms of the products refer to the date of the publication of this article. Full disclosure.
How to choose one of the Christmas Gift Ideas For A 3 Year Old Girl?
As a mother, I know that the best thing to do to satisfy your kid's expectations is to be aware of your toddler's wishes for this Christmas gift.
So, you may have e conversation with her to understand and learn more or notice when your little one expresses his wishes in your daily activities. But, not all kids can communicate easily and speak fluently from the second year.
In few words, we have to learn to understand our kids, knows them well, and make the right presents.
In other terms, when your kid can communicate with you sharing his wishes for the Christmas present, it will be easier for you to choose. So, you can have the hint to do the best gift for your little one. In this case, we can decide faster, full-filling our child's desires with our budget or what we think is most valuable to him.
But, what to do when our kid is a young baby or toddler? In this case, there are many tools to find out what our little toddlers like most. At the same time, we can convert this process, into creativity and fun time with our little ones.
One way is to write a letter to Santa Claus and to find out what our kid likes most. When my daughter was under three, I find out her wishes using illustrating images of different toys or other items. In this way, I can present to her what I think is better for my daughter.
As well, you can do the same, printing this list below, or another list of toys or kid's outfits and other items where you prefer to shop frequently and show to your kid to find out what he wants and what to address to Santa for Christmas.
And, once we have some indications from our child, it is better to have a list, keeping in mind also other specifications respecting our child's age, gender, if we have twins, etc. This article is about some best gift ideas for a toddler girl from 2-4 years old, but you can follow the same Christmas gift ideas on how to choose your kid's presents.
Also, you can have a look at The Best Christmas Toys For 2020 and The Best Christmas Dresses For Girls. And, if you have a newborn baby or are expecting a new angel in your family, I also recommend having a look at these articles below with helpful products that can be a beautiful Christmas gift.
Related Article- The 16 Best Sleep Sacks of 2021
Second Related Article-Top Rated Baby Floor Seats
Related Article-Best Baby Jumpers And Bouncers
Related Article- The 7 Best Cozy Amazon Baby Swings To Gift
I know that it is not your first time to get or order a gift, so I'm continuing with my best recommendations for toddler girls, hoping to satisfy your daughter or niece's expectations.
Christmas Gift Ideas For A 3-Year-Old Girl
#1.The Elf on the Shelf Girl Light, Red and White
The Elf on the Shelf is a traditional Christmas book for families, a fun storybook with Santa Claus and Elfs, that transmits to every child the spirit of Christmas.
In few words, this book is full of adventures about Santa and Elfs, offering a lot of creativity to your little one.
Also, by buying this book, you are adopting your scout elf. This packaged gift included a girl elf in light, red, and white, who is a magical scout Elf sent by Santa.
He sits on a shelf to listen and watch all day, flying back every night to the North Pole to report to Santa and helping him to make his list. In the morning, every Elf finds a new spot, and every child loves to search for them.
In this storybook, some Elfs are creative or have an adventurous spirit, and some are funny doing silly actions. But, in all cases, they make Christmas much more fun for our kids.
In other words, your daughter will love this Elf. And, in the package, you will have the official adoptable certification. The artfully storybook comes with a safety box, which makes it looks so beautiful for the Christmas holiday.
#2.Barbie Dreamhouse Dollhouse
Barbie is a lovely character for toddler girls, and I believe that every toddler girl gets at least one time in her childhood a Barbie doll present.
Above all, this Barbie Dreamhouse is a beautiful gift for a three years old girl to play with, having fun, enjoy, and develop her creativity.
Furthermore, It is a Dollhouse with wheelchairs accessible elevator. It features a pool, a slide, and 70 accessories, including all furniture and household items.
So, It is beautiful to use for years and a perfect gift for a girl from three to seven years old.
Also, the house is three feet tall and four feet wide, multicolor, and lovely to see and play with it. It features three stories, eight rooms, accomodating up to four dolls in it.
I like it because it encourages our daughters to use their imaginations playing with it. She will use the elevator, the reel pool, encouraging role-play, using all accessories like a real dream house.
As well, It features realistic touches for the house lights and sounds. It seems so real by frying a pan, using the kettle, open the oven door. Or, when hearing the ticking of the cock, flushing sound for the toilet plush button, etc.
Moreover, some of the furniture transform into beds for creating more spacious and having gusts in the house. The kitchen room offers so many items to play with and has creative cooking with dolls and friends. It is one of the most beautiful toy gifts.
#3.Melissa & Doug Grocery Store
Did your daughter like to play and imitate you doing shopping and similar to this. Then this one is a beautiful choice for your daughter's gift.
As well, It encourages the creativity of the child being in the role-play of the customer and the grocer. In other terms, your little one will be more interactive with this toy store. It is one of the most liked by the parents and kids.
So, our kids will learn to promote self-confidence, social and cognitive skills, resilience, and more.
Melissa & Doug creates for 30 years now beautiful and safe woody toys for our kids. This one is one of the most beautiful. And, you can choose the Grocery Store or other pattern combination of the Grocery store and food basket, or refrigerator, etc.
Furthermore, your toddler will enjoy playing with it and using all the items. It features a hand-cranked conveyor belt, a bagging area, a card swipe machine, a realistic beeping scanner, and a cash drawer.
Also, the Grocery store is 100% wood, with smooth, curved corners and edges for improved safety during the playing time. And, it is suitable to use and play from three years old and up.
#4.LINCOLN LOGS-Collector's Edition Village
My daughter likes to build and play with blocks. I think that she is likely from her father, who is an engineer.
This Lincoln Logs toy is a beautiful one to develop my child's creativity, playing, and improving her imagination. So, It comes in 327 wood pieces, and it helps encourage and improve motoric skills, creativity, hand-eye coordination, finding solutions, etc.
Also, It improves playing longer with it being creative and not bothering for hours. As well, kids like to play with it, and the beautifully crafted stained real wood pieces offer the possibility to build a diverse range of log cabin models.
Furthermore, the toy comes with three building models, offering a lot of other creativity and fun. It is America's National Toy that comes in high-quality maple wood.
Also, It features wood pieces for the roofs, roof facades, logs, and chimneys. These log pieces are easy to hold and stack, even by the kid's small hands. The wood is from the certified forests, and all toy pieces are safe and friendly to use. It is suitable for three years old toddlers and up.
#5.LEGO DUPLO Disney Frozen Ice Castle Building Blocks
All girls love Disney Frozen, Elsa, Anna, and all the other characters of this movie.
In other terms, Lego brings a piece of it into this creative and learning toy. Furthermore, It features 59 pieces to build the Ice Castle. It comes with transparent bricks that look like real ice. And, push-button multicolor bricks on the top of the castle that provides illumination for the ice castle.
Also, the toy includes three Frozen characters, Anna, Elsa, and Olaf. For more fun, it encourages the toddler girls to be role-playing with these characters.
The dimensions of the Frozen play castle are 11-inch (28cm) high, 7-inch (19cm) wide, and 6-inch (16cm) deep. It is suitable for kids from two years old, and like every LEGO toy, it is beautiful and develops motoric skills, creativity, and learning.
#6.Disney Princess dolls inspired by Disney's "Ralph Breaks the Internet" Movie
In my opinion, A doll toy is a beautiful gift for a toddler girl. And, this one is one of the most beautiful sets with 14 fashionable princess dolls inspiring by Disney movies.
Furthermore, It includes Moana, Mulan, Pocahontas, Rapunzel, Snow White, and Tiana, in comfy casual outfits. So, your daughter will have fun playing with this set of dolls, wearing and caring for them using all the 20 movie-inspired accessories, 14 dolls outfits, and 12 pairs of shoes that come together with these Disney princess dolls.
Also, It encourages role-playing, creativity, imagination, learning colors, shapes, motor skills development, etc.
#7.LeapFrog LeapReader System Learn-to-Read 10 Book Mega Pack, Pink
This toy is suitable from the age of four years old, but considering it a good source of learning our kids to read and pronounce better, I find it interesting to add to this list.
So, the set includes ten learn-to-read books and a read leaper pen that helps the kids to learn to read the book by sounding out letters and words in interactive stories and activities.
Also, the text of the books is in short vowels, sight words, and simple words, and each page has three models in learning the kids to read. As well, the leaper pen works with all LeapReader books, and you can choose to buy other books separately.
Also, you can download additional content from the LeapFrog app center, including popular audiobooks, sing-along songs, fun facts, and trivia.
#8.Master Workbench by Hape
Did your little one like to take your kitchen items or your tools in the garage and start role-playing building something by himself? Then, this Master Workbench by Hape is the choice.
To summarise, your toddler girl or boy will like it so much, and at the same time, will have fun playing, being creative, building things, and use their imagination.
Also, It is a real-life simulation encouraging kids to build, fix, rebuild, and play for hours.
Furthermore, the master workbench contains 35 pieces includes a hammer, saw, screwdriver, wrench, vice, angle, screws, nuts, bolts, gears, links, and more creative parts for building.
It is suitable to use from three years old and up, and the toy has shelves to organize and store the building tools. Also, it is one of the best toys awarded by Toy Stores of Canada with the Gold Star Award.
#9.VTech Touch and Learn Activity Desk Deluxe, Pink
Every young toddler is agile and likes to play around in the home without being concentrate or find a kind place to play.
Also, my daughter is like that, and I want to educate her to play and have fun at her desk or working table.
To summarise, this Active Desk Deluxe from VTech is a beautiful gift for our toddler girls. With it, she will have fun and play, learn, and do interactive activities.
Furthermore, It is a touch and learning desk with five activities pages included in the package.
So, the desk transforms into a chalkboard to draw, and the activity pages come with letters, numbers, and shapes in LED to encourage writing and learning.
Also, It features 100 plus vocabulary words, 20 plus activities, 20 plus songs, and melodies. And, it has a storage area to store the art supplies and a stool to sit.
As well, you can buy other page activities that fit with this learning desk separately. The desk needs 4 AA batteries which we need to buy by ourselves, and it is suitable to use for two years old plus kids.
#10.Radio Flyer Pink Rider Trike, outdoor toddler tricycle
My daughter likes so much to ride her bike. She is growing so fast, and we are thinking of buying her a new bicycle.
And, this one features a tricycle design being friendly to use for beginners. Also, it is safe for our kids to feel comfortable and agile to pass to the bicycle riding.
Furthermore, It features quite tires for smooth riding. And, on her back, it features a covered storage bin to keep our kid toys or what she likes.
Also, the material is steel, but it is convenient to hand and grip by the parents.
What I like most is that this design of the seat is adjustable. So, our kids can ride it from 30 months of age up to five years old. It is a beautiful gift to consider and lovely for every toddler girl.
#11.Simple Joys by Carter's Baby, Toddler Girls' 3-Piece Snug-Fit Cotton Christmas Pajama Set
It is beautiful pajamas set for a toddler girl, with Christmas and Santa graphics.
At the same time, it is a lovely product to gift to your daughter or niece for this Christmas.
Also, t is 100% cotton for comfortable and cozy wearing and sleeping. The pajamas feature a pull closure and covered elastic waistband for easy putting on and off. As well, it is machine washable for easy maintenance and care.
#12.Mightly Girls' 3/4 Sleeve Skater Dress | Organic Cotton Fair Trade Certified Toddler and Kids Clothes
This dress in red color is a beautiful gift for a toddler girl or up to 12 years old. Also, It is a cute and comfortable dress made of organic cotton and non-toxic dyes and inks.
Every child likes to wear much comfy as it is possible on daily living. And, this dress is also pretty, with no tag, and is itch-free.
Furthermore, the natural fiber fabric is pre-washed to eliminate most shrinkage, and the dress is machine washable for easy care.
The three mothers that founded the Mightly brand have a simple goal; to make kid-friendly styles in earth-friendly fabrics at family-friendly prices.
As well, you can gift this dress for the age of two years old up to 12 years old. Also, you can find it in pink, turquoise, gold leopard, raspberry. I prefer the red one for the Christmas dress gift.
#13.Elsa Zip Up Hoodie
It is a beautiful gift for your toddler girl, which can transform from a comfortable, unique hoodie into a treasured plushie-friendly toy.
So, your daughter will grow up, and her Elsa friend will always be there. Also, the hoodie is cozy, from non-allergic material, skin-friendly for every sensitive skin.
Furthermore, the product is of high quality and for that is the winner of the National Parenting Product Award.
As well, It runs true to size, and you can order for a toddler girl from two years old up to five years old. It features a silicone zipper for safety use, and it is machine washable for easy care and maintenance.
#14.Baby Unicorn Gift Bundle- Toddler
My daughter likes Unicorn toys so much, and I believe that every little toddler girl loves a unicorn toy.
Furthermore, this one is a bundle gift ready for you when you don't have so much time to search and organize by yourself a unicorn bundle gift for your daughter.
Also, It included six beautiful and creative pieces for your little one to play, have fun with, learn, and encourage imagination and creativity.
In the bundle gift, you will get:
A pink toy unicorn Mon Ami Tinsel by Manhattan Toys,
A Little Unicorns Tale Board Book by Manhattan Toys,
A Pink Ribbon Wand by Mouse Loves Pig,
A Created by Me puzzle with 42 pieces, Butterfly Magnets Wooden Craft Kit by Melissa and Doug,
Unicorn Land Dry Erase Coloring Book by The Piggy Story
Unicorn Land Dry Erase Mega Crayons by The Piggy Story
In other words, it is beautiful to gift for every toddler occasion gift, and especially for Christmas time.
#15.Simple Joys by Carter's Baby and Toddler Girls' Hooded Sleeper Robe.
If you are looking for cute pajamas for a toddler girl, then this one by Carter is a best seller, lovely, soft, and comfortable to sleep with it.
To summarise, it is a cozy soft fleece style, warm and comfortable for the cold season, with belt closure for easy use, a functional pocket, and a jersey-lined hoodie.
Furthermore, It is 100% polyester and machine washable. Also, you can order and find this design in two patterns, red with white dots and pink unicorn with pink hearts.
It is available from the first birthday of your little one, and you can find it in three sizes to order: 12-24 months, 2-3 years old, and 4-5 years old.
#16.Adidas Originals Kids' Stan Smith Sneaker
Adidas is one of the brands that I choose for my daughter, so I recommend it to every parent for his child.
This one, a design from Adidas Original, comes 100% in leather and rubber sole. Also, it is a true-to-size design that is perfect for Christmas Holiday if you are looking in sport's shoes or something like that. Furthermore, it comes at a good and affordable price.
As well, this Adidas sneaker can order for both a boy or a girl.
#17.Simple Joys by Carter's Baby and Toddler 2-Pack Holiday Loose Fit Fleece Footed Pajamas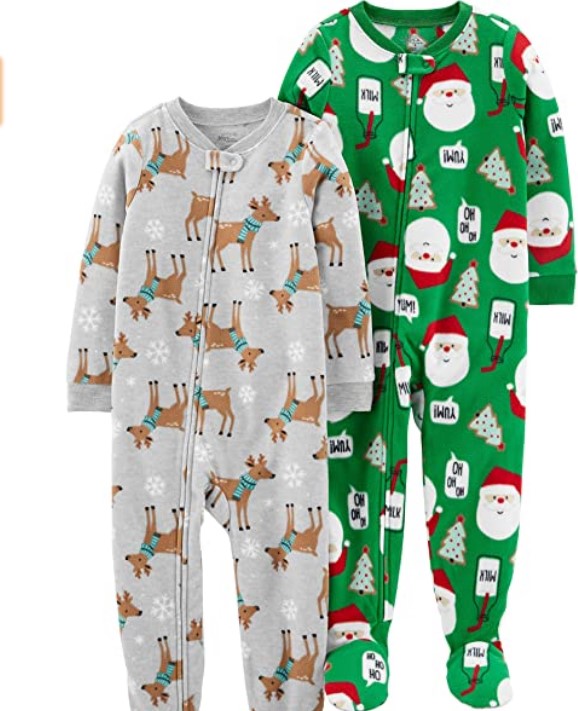 If your baby or toddler does not like to wear socks like my daughter, then these footed pajamas are the right choice for cold nights.
Also, Carter impresses with these holiday printing designs that you can find in grey and green or ivory and red. Furthermore, you can find your child size for it, from six months old up to five years old.
Pajamas are true to size, so go on and order and you usually do with your other child's items and outfits.
To summarise, the product is of high quality at an affordable price, and it is flame resistant and warm, and comfortable to sleep. The ankle-to-chin zipper with a snap-over tab makes it easier to put on or off.
#18. Amazon Brand – Spotted Zebra Girls Tutu Skirts
If you want to surprise your little daughter or niece with a cute dress or outfit, it is one to consider.
Furthermore, this tutu set of glittery elastic waistband and soft jersey lining red and white is a beautiful gift to do.
Also, the tutu's lining is 60 % cotton and 40% polyester, with an elastic closure to wear, and it is hand wash only.
As well, these two tutu skirts are the perfect mix of play and style with plenty of twirl factors. Every little toddler girl will love this tutu set, looking so fashin and sparkly.
Conclusions
Writing this article, I become more conscious of how much our kids love and like the toys. My daughter looked at some of the toys listed here on my computer. And, do you know what? She asked me to buy all of them for her.
Dear parents, kids love everything that they see. But, at the end of the day, we know how to protect them. Also, let's make them happy by purchasing the right gifts for them.
Above all, I consider these products and gift ideas not only beautiful but also useful for years, learning and educational toys, and comfortable outfits for our little princess.
Did you choose your daughter's or niece's gifts for this Christmas? If you are looking for other options, please have a look at related articles for Christmas gifts.
If you like and find this article helpful, please share it with your friends. And, take a minute and let me know what do you think about this article, leaving a comment or questions below. I appreciate your thoughts.
Best
Alketa