Christmas and Season Holidays are closer than ever now, and we all must start to plan and think about the best toys or gifts for our kids. This article about Best Christmas Toys For 2020 is for helping you and giving a hand to choose your favorite toy for your little one in this list of the best toys for 2020.
As this website has in focus the young baby's age, most of the information will dedicate to this age category, but I'm sure that reading this article, you will find all you need about the best toy choices for your little one. My daughter will soon be three years old, and like you, I'm looking for her toy. I'm so happy that she's growing up healthy, and I wish her to be every day happy and joyful. We are all blessed to be parents, and we must also be thankful for our kids, so let's buy the best toy for our little ones. I'm sharing this article in a mother position, and my first goal is to help you with my search information about the best toys for 2020. I'm glad to help and give you a hint to choose right and make your kid happy. Hey, parents, we must also be thankful that our kids cherry up with a toy gift.
You can also read below similar articles about toys anf gifts for your little one
Stay with me and continue reading to learn more about it. To be more helpful, I've organized my information by the age of the kids.
"As the owner of this website, I've tracked down great deals for the products and services mentioned herein. When you use the links on this page to make a purchase, I may get a small commission, and you may get a worth bargain. It's a win-win all around. Thank you for supporting this site. FYI- Prices and Terms of the products refer to the date of the publication of this article. Full disclosure.
Best Christmas Toys For Baby 0-24 months old
#1.LEGO DUPLO Classic Heart Box – Learning Toy for Toddlers (80 pieces)
All we know and appreciate LEGO toys that every kid loves to play with them, and I think that once a life a kid gets a LEGO toy as a gift. This LEGO box is a new design of 2020 that contains 80 pieces of bricks for the learning and development of the kid that plays with them. The brisks are colorful and comes in LEGO DUPLO design, easy to handle, and use by the kid by his creativity and imagination. The package comes with 15 easy-to built models that toddlers know, or learn to know from their daily activities and life. They will learn building a house, a whale, a flower, etc.giving every baby from the 18 months old the opportunity to learn playing. With LEGO toy bricks, our kids can learn colors, shapes, develop imagination, creativity, etc. This one is one of the best presents for a birthday, Thanksgiving, Christmas, Season Holiday, etc.
#2.Fisher-Price Linkimals Happy Shapes Hedgehog
A baby growing up develop very fast his senses and one of the toy category that helps on this learning and development phase are musical toys. This Fisher-Price Educational toy with music is suitable for the baby nine months and up, and it is a lovely gift for Christmas, birthday, or any other gift occasion that you need to make a present to your little one. It is an interactive toy with five buttons that comes with light, music, and songs. The kid can learn shapes, colors, numbers, and also short phrases that can help for the first pronunciation words. The hedgehog is one of the animal characters that kids love, and it comes with wheels, and rolling the hedgehog can activate songs, sounds, and phrases. Your kid will have fun pulling it from the rope around the house. My daughter has a similar toy, a wooden dog, and she loves to come round with it from a room to another every time.
I can say that this toy with all these learning features, it is a lovely gift to consider at an affordable price.
#3.Baby Einstein Octoplush Musical Plush Toy
It also is a popular toy that most of the kids happened to receive it as a gift. My daughter has one similar toy, with other colors, but the same features. The octopus comes with eight different known songs for kids, one for each octopus leg. Just press the button, and your baby can hear eight songs and colors in English, Spanish, and French. The toy is from soft material, but being a battery toy, it can is not machine washable, but only can clean with a damp cloth. It is funny and a great toy for learning during the baby's entertainment time, and it is easy portable everywhere, in the car, in the floor seat, etc. This toy can use from three months old.
#4. JLtech Kids Digita Video Recorder Camera
Kids like to imitate their parents, and considering the development of technology, they attract by phones and any other electronic items. One of these is a camera. A toddler wants to take a photo as we do. My daughter this summer wants my phone to take photographs by herself at the beach. I guess your toddler likes to do the same. If so, this is a beautiful toy to gift your little one from two years old up to ten, a 2020 new version toy camera. The camera has a memory card of 32 GB that permit your little one to take photos and memories from his daily activities, family activities, school, etc. The photographs can upload and review on a computer. The camera features a durable lanyard that makes it easily portable, and your kid can hang it in his neck. This camera can take videos and photos, and it offers various effects and backgrounds for the kids to have fun and enjoy using it. There are 15 cute Cartoon photo frames background, three photo effects, six classic filters, and five built-in games in the camera. And if the kid may accidentally crash the camera, don't worry about it. The camera features a silicone cover, which is non-toxic, easily usable for the kids, and provide anti-fall protection for the camera. And, about the battery, you don't have to worry about it, because it comes with a 5V rechargeable battery that can charge for 1-2 hours, and your child can use it for 2-3 hours playing and having fun. For one year, the manufacturer offers after-sales service for this product.
#5.Little Tikes Activity Garden Baby Playset
The play centers are the toys category that likes to every child. For this reason, we take our children to play in the indoor or outdoor playgrounds, but when they have this kind of toys in their home, it is more fun, can play every time, and it is also safer. This Activity Baby Playset is a toy that can use in the garden for outdoor activities, but you can also put it in your baby toy room. It can use for babies six months up to three years old. My daughter likes much this kind of toy, and if I have more space in my house, I will get to her more than one. This toy from Little Tikes is a multifunctional play center that improves your child's motoric skills, and he can enjoy it feeling at home. It has so many colors and shapes to learn, and it can transform into an open two-sides play center for sitting and play. It also has gears to spin, and the kid can play clicking bugs and a large button that plays songs. Your kid can do a lot of things, like open the door that also has a piano tune, open and close window, looking with a telescope, shape the mailbox, etc. It needs 3 AA batteries that do not include in the package, but the good news is that this item is on offer and you can same some bucks, so have a look below and check the price.
#6.iPlay, iLearn 10pcs Baby Rattles Teether, Shaker, Grab and Spin Rattle, Musical Toy Set
The most likely games for the baby in the first months are the shakers and tethers. A baby enjoys playing even with a plastic bag, preferring very much the noises that the plastic bag makes by scratching it. The same is with shakers because every noise is likely for your baby. I bring in my memories of the moments that visited our pediatrician, mostly for the vaccines that a baby has during the first year, and the only thing that calms the babies was a baby shaker that the pediatrician used all the time. This package of ten musical toys set included ten different baby tethers/rattles, in various colors, shapes, and easy to grip. This package is one of the best for a newborn to learn and improve motoric skills and the different texture helps that baby knows and develops touch, taste, and smell. The toys come with a lot of musical effects, sounds, and colors that help in improving the baby's sensory experiences and activities. The package is perfect for every newborn occasion, a baby shower, Christmas, season holidays, etc.
#7.Hape Pound & Tap Bench with Slide Out Xylophone
A Xylophone is one of the beautiful and lovely toys for the kids. My daughter has one, together with a piano, and she likes it very much. I like this Xylophon design because it is cute, and it can play variously. Your kid can divert fetching balls, and at the same time, can play music with the xylophone, enjoying the toy and learning and developing his motoric skills and sensors. Using the hammer, the baby can promote dexterity, hand-eye coordination, manipulation, arm movement, cause, and effect. Your kid enjoys playing music and the toy, in general, encourage musical development, exploration, and audio recognition. The toy comes with a safety finish, and your toddler can use it from 12 months up to three years old.
#8.Skip Hop Silver Lining Cloud Baby Play Mat and Infant Activity Gym
The activity gyms and entertainment toys are of the category that you must consider for your baby since form the first days that you give birth to him. This Activity Gim from Skip Hop Store is one of the most rated and liked by the parents. Your little one can enjoy the tummy time in this activity center and develop motoric skills, sensors, enjoying the tunes, light, etc. The activity center comes with a musical sheep toy, led light-up star, cloud squeaker, bird rattle, and a baby-safe sunshine mirror. It is large and has a cushion for your baby comfort. It is similar to a cloud shape with modern color to fit with every nursery and decor in your home. The newborn can have fabulous tummy time on it, using the puffy, cloud shape pillow with plush velour on one side and a fun print on the other. The material is free of chemicals, BPA-free, PVC-free, Phthalate-free for safety use at all times. The sizes are in inches: 36l x 36w x 19h; and in cm: 91l x 91w x 48h.
#9.VTech Sit-To-Stand Learning Walker
This game is beautiful for the bay to play and learn a lot of new things. First of all, it helps the baby to develop his motoric skills, exactly to encourage walking, to stand and sit and taking the first steps. My daughter received such a gift for her first birthday, and she still likes it so much. The toy comes with many colors, over 70 sing-along songs, music tunes, sound effects, and fun phrases, and effects, and it is suitable from nine months old up to three years old. It has five piano key that plays music and five notes being a great learning toy, also for the colors, to separate shapes, develop the motor skills, etc. Your kid can have fun with it, pretending to play like a telephone handset, and mechanical elements enhance role-play for fun. It needs two AA batteries that include in the package.
#10.Infantino 4-in-1 Jumbo Baby Activity Gym & Ball Pit
This Infantino Baby Activity Gym is another learning, entertainment, and having a fun toy that you must consider if your little one is a newborn. With this toy, your baby will play in four ways, growing up from the first days to a brave and active toddler. Your kid will enjoy the tummy time in this activity gym, playing with more toys in a versatile position, experiencing and improving motoric skills, and learning to know new things every day. It has links to switch the toys, and you can choose to replace it and to have the baby's attention using new toys. It includes various toys in different shapes, colors, and texture for the baby's fun and development. It comes with 40 balls for more entertainment, and it transforms from a baby gym to a toddler ball pit, including a mirror, a baby tether, and five toys that also can use at your baby's stroller. The dimensions are 24.25 x 20.25 x 4.25 inches.
#11.Fisher-Price Color Climbers Jumperoo
Do you want to let your baby free in his world and fantasia, playing and having fun, exploring, and learning at the same time? A jumper is one of the toys and items to add in the list for your baby entertainment, development, and learning. This Fisher_Price Climbers Jumperoo gives your little one the possibility to move and discover in 360 degrees. It comes with musical effects and tunes, lights, and many colors to encourage your baby to jump and fun. You can easily adjust it in three positions as your little one grows up. The pad is removable and machine washable for having all time hygiene and keep your baby area and toys clean. The jumper comes with so many colorful, lightly, and musical toys to encourage your baby to develop motoric skills, sensors and enjoy jumping and bouncing all time.
#12.Fisher-Price Sweet Surroundings Monkey Cradle 'n Swing
A baby wants all the entertainment items, feeling loved every time. A baby swing is a useful tool for baby entertainment and a great helper for the mother. This Fisher-Price one can use from the first days of the baby up the 25 pounds of baby's weight. It can place in every area of your home, lightly portable, and you can have your baby near to you doing your chores and baby enjoy his naping time or just his calm and relax time. The product is one of the best quality, a best seller on Amazon, with a comfortable area for your baby. It features two ways to swing your little one, choosing side to side or head-to-toe. It has two recline positions for maximal comfort, and your little one can enjoy 16 different soothing songs and nature sounds to relax and sleep. And, if your baby does not calm after all, then it features an optional calming vibration. The plush monkey seat features head support and a seat pad with a deluxe body insert. It is a beautiful gift for your little one for every occasion and period of the year.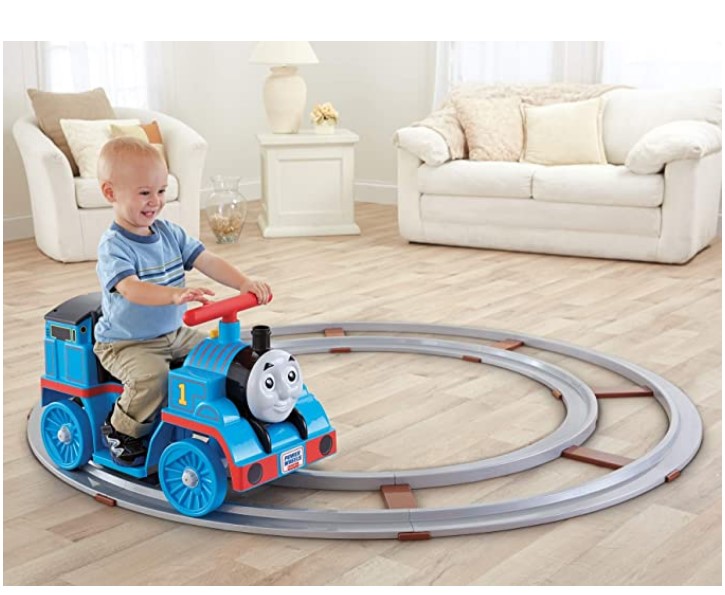 #13.Power Wheels 6V Battery Powered Thomas & Friends Thomas Train with Track
Every baby likes to have a toy train and play with it. There are various train designs that you can choose and buy for your little one, but Thomas Train is one of the train toys that kids love. And, this design is more lovely for them because your baby can ride around by himself. It comes with six volts of battery power for more fun, and it is toddler friendly. The baby learns fast to use it and can push the button operation by himself, knowing when to start, stop, go forward, and steer. The musical tunes and phases make the bay game more fun. Your baby can enjoy playing in the living room with this train before having the first birthday, and the train assemblies easily. The product is high quality, safe and durable, a comfortable single rider seat, and safe one mph maximum forward speed on track and two mph off track.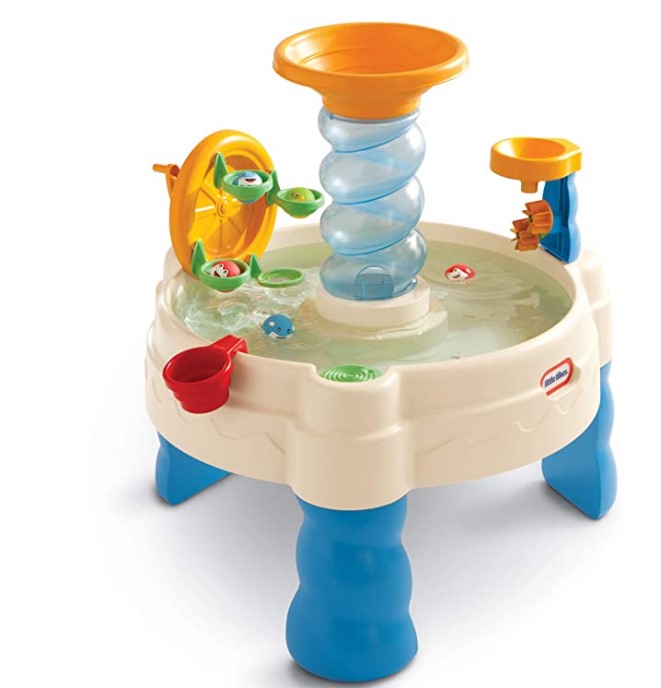 #14.Little Tikes Spiralin' Seas Waterpark Play Table, Multicolor
A baby loves to play with water, and after he starts cowling and stands by himself, it happened to find him playing with water in your shower or bathroom, having enormous fun being all wet. In this case, I have two ways that my daughter has fun with water: the first is to have a bath longer than usual, we do, and she plays in the bath time with her water toys, and the second is a water table, like this one. You can make it in your garden or balcony, and your little one has fun playing with water, and at the same time, learning and developing his motoric skills. The toy included bolls that drop-down spiral, and Ferris wheels, which can scoop up and drop off the ball. It also has one water cup to pour water in the wheels and five round characters that squirt water. Your toddler can play by himself or with friends with it.
#15.Tech Sit-to-Stand Alphabet Train
It is another funny and learning toy train that helps your little one enjoy playing and learning at the same time. It is an interactive toy for your toddler that grows with him. Your baby can learn letters, colors, shapes, songs, stories, etc. It features 13 double blocks with alphabet letters and a water-resistant book that makes your baby learning more fund and efficacy.
The train also has motion sensors that activate sounds when it moves around. It has more than 100 sing-along songs, music, sound effects, and phrases, and the five colorful piano key help in learning colors and numbers, too. It operates with 3 AA batteries included in the packages, and your kid can play with it from 12 months up to three years old or more. It is a beautiful gift for every occasion.
Best Christmas Toys For Preschool Age
ANIMAL ISLAND Aila Sit & Play Virtual Early Preschool Learning System for Toddlers
The Animal Island Aila is a virtual toy that your toddler can use from the first birthday and up. It is a virtual animal island that helps parents to have peace of mind about their kids.
It is a beautiful sit and plays toy for learning, with a lot of educational tools for helping the parent in the early age education of his toddler. It is hand- free, and you don't have to worry about updating, add, and subscription, because it is all for free and the updating is automatic. It has three categories: learning, broadcast for exploring, and the lullaby for the baby sleep. The learning part includes letters, colors, numbers, shapes, stories, words, and musical. The Aila keeps track of the toddler's milestones and informs you about it delivering the content in time. You also can set learning sessions, check it, send videos and photos, and monitor the screen time. It is not only beautiful but helpful, and a great friend in your toddler education.
Fisher-Price Laugh & Learn Servin Up Fun Food Truck
Every toddler likes this kind of toy that helps to develop their imagination, to be creative, and improve the vocabulary and play-roles pretend to be with this Serving Up Fun Food Truck. The toy has two sides to play, and more than 20 removable pieces to play and have fun. The cash register is another fun part of the toy that every toddler likes and wants to have for playing and pretending. It comes with four menu cards, rings up tunes for orders and pressing buttons, and the toddler can also push the music button for a playlist of learning songs and more. It features an interactive preparation area for the food, including a sink, light-up grill, service bell, and an activity-filled dashboard. The toy also has more than 125 songs, sounds, phrases, organizing in three smart learning stages that improve and develop the toddler learning and educational activity. It is a beautiful gift for every toddler from 18 months to 36 months old.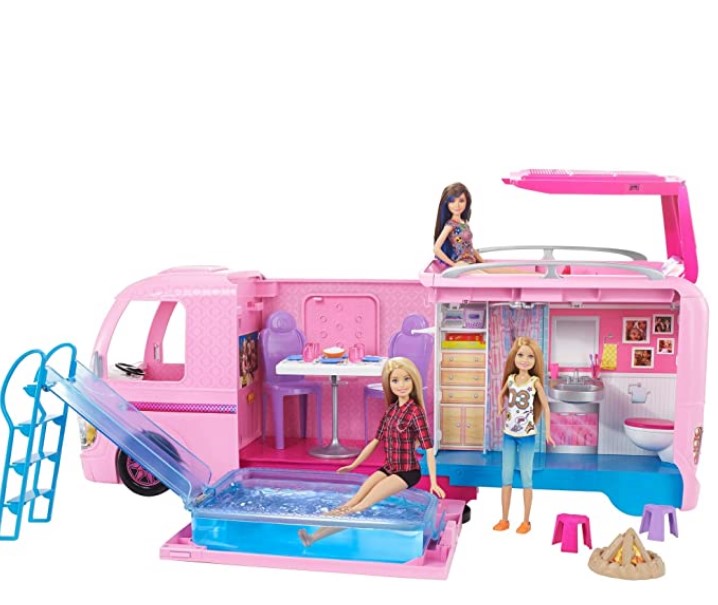 Barbie Camper Pops Out into Play Set with Pool
The Barnie Camper is a beautiful toy and gift for all toddler girls that like and adore Barby doll, having an excellent playing time with it. It can transform with a push-button form a camper in an open play space, with a water pool and stairs on it. The back of the Barbie camper holds a bathroom, closet with a sink and shower, and on the other sides, it is a kitchen with a sink and refrigerator. In the interior area can create an eating space, with a table and chairs, two canopy beds for sleeping, and the sleeping area under the stairs for more Barbie sisters and friends. You need to buy the dolls separately. The toy is a beautiful gift and brilliant entertainment for a toddler from three years of age up to seven years old.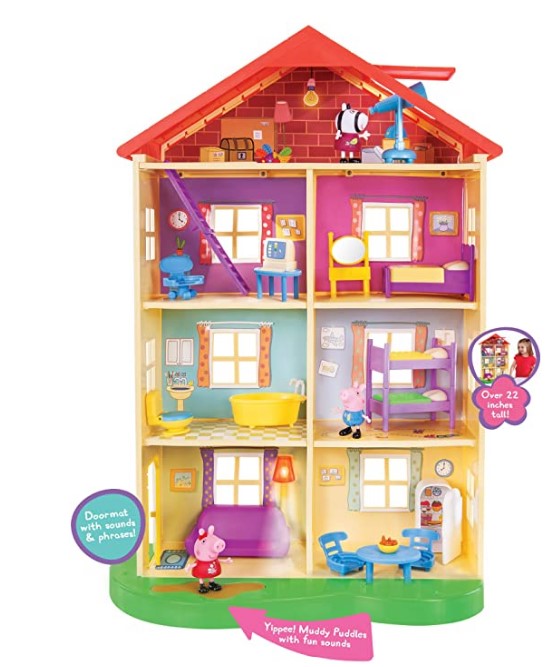 Peppa Pig's Lights & Sounds Family Home Feature Playset
Peppa pig is one of the most lovely characters for kids, and this Peppa Pig house is a fun toy for your kid to play alone or with friends, pretending roles, and enjoying the company of Peppa Pig, George, and Zoe Zebra, included in this toy package. The house is 22 inches tall and has seven rooms and 13 accessories. It features a lot of Peppa pig' family sounds, songs, and phrases for a similar pretending as living one day in Peppa Pig house. For all the effects and musical parts, the toys need 2 AA batteries, which include in the package. Each room has individual pieces of furniture and accessories, making that your kid customize as he likes to play with house. It is a beautiful gift for every kid up to 24 months.
Paw Patrol, True Metal Adventure Bay Rescue Way Playset with 2 Exclusive Vehicles
Paw Patrol is one of the most loved toys and characters, and if your toddler is a fan of Paw Patrol and he is three years old or older, this one is very excited for your toddler. It is a toy of action designed in a lockout tower with a corkscrew, and your toddler can play with his friend sending at the same time two vehicles down around the flip. The toys permit to play with six metal vehicles sending them down at once, but you need to buy them separately because the package included only two vehicles 1:55 scale True Metal die-cast Chase and Marshall vehicles. The package included: one playset, one exclusive True Metal Marshall vehicle, one True Metal Chase vehicle, one Instruction Guide that explains how to play. If you like to buy it with all the vehicle set, then check the price here.
L.O.L. Surprise! House – New Real Wood Doll House with 85+ Surprises
L.O.L Suprise is one of the brands that kids like and prefer to have in their toy list, and this one is one of the most toy surprises included in the total package and price. It has more than 85 toy surprises and comes with a discount for the season holidays. The house is three feet tall and three feet wide, and it has six rooms, three stories included a bedroom, bathroom, kitchen, living room, patio, and a fashion closet. The pieces of furniture also are surprising in this house, including a piano that transforms into bunk beds. The surprise house features a lot of tools to seems like a real house, so it has a working elevator, spiral staircase, day-to-night patio, pool, hot tub, working light, toilet flush sounds effects, etc. It is a 360 degrees toy play, and the back of it features a mall for more fun, including a track. The two dolls sold separately. If you prefer to get it with two lol surprise dolls, then have a look here.
KidKraft Everyday Heroes Play Set
If you have a toddler boy that loves heroes and action toys, then this one is one that you must consider. This Heroes building has three floors and 12 rooms, a floor-to-ceiling firefighter's pole, bendable firefighters, and dogs, a helicopter, police motorcycle, and a fire truck, and your toddler can have a lot of playsets with them, developing fantasia and creation. The building can fold up for quick and easy storage, and offers the right size for your kid to play with it. The package included the detailed assembly instructions to make this process simple for you. If you prefer to purchase this toy together with the other Heroes characters and personages, then have a look here.
Star Wars Galactic Heroes Galactic Rivals Action Figure
The Star Wars is one of the liked by most people, even by the kids, so if your toddler loves the Star Wars characters and Galactic heroes, then you need to have a look at this Star Wars Figurine Set. In total, the set has ten Galactic Heroes, and each of them is 2.5 inches tall, the right size for your small kid hands. Your toddler can create play set schenes with them just following his imagination. Heroes included in the package are Luke Skywalker, Darth Vader, Rey (Resistance Outfit), Kylo Ren, Yoda, Emperor Palpatine, Chewbacca, Stormtrooper, Obi-Wan Kenobi, and General Grievous figures. It is suitable to use for every kid from three years old up to seven years old. And if you want to complete this set with the Galactic Fighters, then have a look here.
EzyRoller Classic Ride On – Blue
The EazyRoller Classic is a funny riding way for your kid that can use it from the age of four years old up to the weight of 150 pounds. The riding with it is between scoter and bike, but it has no pedals, and your kid can ride it sitting comfortably on it. It features a foot bar that permits your little one to ride easily alternating leg movement on the foot bar. The EzyRoller Ride On Classic comes with two steel extensions to grow with your child, the same as you can raise the seat of the bike.
It measures 26 to 42 inches in length, 17 inches wide, 14 inches in height, and weighs 12.8 lbs. This riding machine is easy to maneuver and is safe for the riders from the age of four years old and under 150 lbs of weight. It is a lovely gift for Christmas and every other ocasion.
Little Tikes Inflatable Jump 'n Slide Bounce House with heavy-duty blower, Multicolor
The jumpers and bouncers are one of the most prefers toys for outdoors playing and having fun. This multicolor house design is beautiful and safe for your kids. All the sides, except the front one, feature mesh for protected your kids to not fall during jumping, and the entire bouncer is inflatable. It has stakes anchors to keep it firmly, and you can blow it easily with a heavy-duty blower. The dimensions are 84 inches in length, 84 inches wide, and 47.50 inches in height. Your kid must be at least three years old to use it, and the maximum weight is 250 lbs in total or up to three kids.
Conclusion
In the conclusion of this article about Best Christmas Toys For 2020, I want to say that there are so many toys on the market that I try to find those that are most preferred by the other parents, high-quality products that can use for more than one function, and as long as possible. I hope that this article was helpful for you to find the best toy for your little one or create an idea of the choices and best products that you can buy in the market these days. If you like any of these, check the price to see for the best deal of the day.
Thank you for stopping by. You are welcome to share your experiences, comments, or questions about your baby toys in the form below. I wish all the best to you and your little ones.
Alketa