Hello, my friends,
I decided to write this article, sharing these 16 beautiful Mother and Daughter Gift Ideas with you. I get inspired by National Mother and Daughter Day to write this article. They are all beautiful to gift to our mothers, grandmothers, sisters, and daughters for every occasion.
If you are a daughter's mother like me, then I'm sure that you will celebrate and have a lot of fun and activities that day with your little one.
I'm going to celebrate, too, with my daughter, reminding myself every moment how blessed I am to have her in my life.
If you have read my story already, you know the long journey that I had for having my princess in my life. And the love that she gives back to me every day proves how blessed I am. There are many activities and things to do together, but I thought that a symbolic gift is worthy to remind this day when my little one grows up and understand better all about. I was exploring to find a gift idea to celebrate that day, and I'm going to share with you some of the most beautiful and cute gift ideas that I found.
So my dears, if you are still looking for a gift for your mother or daughter, then keep reading and have a look here to see what I consider some of the best choices. These gifts are beautiful for any mother, daughter, or any other woman and any occasion that you want to make a gift to them. We can make a present of each of them for a mother or daughter's birthday, for Thanksgiving, Christmas, Mother's Day, etc.
You can also have a look at our Funny Baby Halloween Costumes.
8 Mother From Daughter Gifts
"As the owner of this website, I've tracked down great deals for the products and services mentioned herein. When you use the links on this page to make a purchase, I may get a small commission, and you may get a worthwhile bargain. It's a win-win all around. Thank you for supporting this site. FYI- Prices and Terms of the products refer to the date of the publication of this article. Full disclosure."
#1. Best Mom Ever Coffee Mug Printing with Gold, Novelty Gifts for Mom from Daughter
My Rate
In our life, there are little lovely moments that make a difference through the days. When our dear daughter or son makes a present to us, we are so happy with their action and sentimental thought. And this Coffe Mug with the golden printed Best Mom Ever is one of this type of gift that every mother will like to have from a child. A mother will drink her coffee every morning or day, remember the beautiful message on it from her sweet child. The mug is a handmade product made by professionals with a unique pattern that makes it a special gift for your mother. The material is 100% high-quality, food-grade ceramics, and the design is durable with a nonslip bottom that never gets falls and slips, suitable for microwave and dishwasher safe. The capacity is 14 ounces, to fulfill your daily coffee needs.
And, what makes it great for a mother gift, is the fact that comes in intimate packaging, with a beautiful box including a spoon and a coaster that makes it looks lovely.
#2.Blankiegram Mother Throw Blanket (Purple) for Loving, Kind & Inspiring Moms
My Rate
It is another warm gift idea for your mother. Any daughter can make a similar present to her mother for soft and warm fall and winter days. It will be a special gift for your mom, not only for the commodity function that offers to your mother, but the lovely words printed over it are a joy and nice message that you as a child will make to a mother. With this present, you will show her that you appreciate every moment that your mother loves you, cares for you, supports, and encourages you. It is a super soft fleece, and your mother can wrap herself with it in every cold and lazy day. It comes in one size 50×60 inches, and you can choose through four colors, blue, grey, pink, and purple. Every color comes in high-quality and helps for a calm night. The purple one is known to help bring sleep, soothe mental and emotional stress, and decrease sensitivity to pain. Purple may help in detoxification as well.
The material of this blanket is high-quality, doesn't shed, or shrink, a blanket to last for years. This blanket can be a great gift choice for any occasion. The manufacturer is a small business based in Portland, Oregon, and they focused on positive words and messages. For any items sold, they dedicated a part of their incomes with a free Blankie for people who otherwise might not receive a gift of loving encouragement.
#3. Michael Kors Women's Jet Set Travel Continental
My Rate
If you prefer not jewelry gifts, then this one from Michael Kors's brand is a beautiful one for a mother gift.
This Jet Set Travel is real leather, and you can choose through 28 designs that the manufacturer offers for this product. You can choose your favorite classic or modern design, and I selected here the classic black one. It is a zip pocket product, with three large compartments, three bill pockets, and 16 card slots. It is a beautiful wallet that you can wear as a wristlet handbag, too.
It is a high-quality brand product, and you can bye for an affordable price. It can wear with your favorite dress or outfit, and you can purchase the one that fits with you or your occasion.
#4.Meant2Tobe Best Mom Gifts Set for Mom from Daughter, Son, Kids, Husband
This package included high-quality products that you can gift your mother for every occasion, birthday, mother's day, Christmas. It also can be a lovely present for a new mom or a mom to be. The package included a Soy candle with Best Mom Ever, Best Mom Ever Tumbler, a pair of funny and cozy socks that every mother will like, and be impressed. This gift can make by a daughter, son, or husband to the mother or wife. The socks have printed the quote If you can read this, bring some. A funny message that will make your mother laugh and enjoy happy moments when she will open this present. The candle is a luxury item for long-lasting, with 100% natural soy and highly scented.
It is a US trademark product, offering the best quality, and 100% of your money back if you will be unsatisfied. It is a cute product, and it is not an expensive one.
#5.New Mom Gifts Ideas-Mom Est. 2020 Spa Gift Box 
My Rate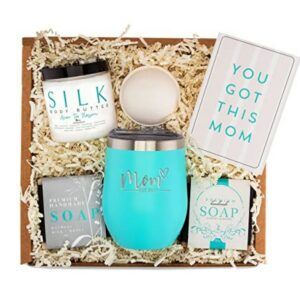 This package of five high-quality products is the perfect gift for a new mother, a mother to be. You can use it as a great gift choice for your mother, wife, sister, friends, etc. It can be a beautiful present for the season holiday, Christmas, Thanksgiving, mother's day, birthday, anniversary, etc. The package included a beautiful 12 oz insulated stainless steel tumbler with the words Mom Est 2020, pretty and daily usage for a morning coffee or other daily drink.
It also comes with two bars of all-natural premium soaps, one confetti bath bomb, one eight-ounce jar of silk skin lotion, that are perfect for spa skincare. The silk body lotion is made on Asian Tea Blossom, the soaps are Cherry Almond Soap and Oatmeal & Honey Soap, and the bath bomb is a fragrant coconut for a spa treatment.
A new mother needs a lot of love and support after giving birth to her baby. And, this present is one of the best choices for helping a new mother to relax at the end of a tiring day.
The package comes with a card for your special note to make this basket special.
And if you are satisfied with your choice, you can return it having 100% of your money back.
#6.EFYTAL Gifts for Mom and Daughter,  2 Interlocking Sterling Silver Infinity Circles Necklace
My Rate
If you like to do a jewelry gift, then one of the products that must consider is from the EFYTAL brand. This store offers high-quality necklaces for every occasion and woman. I selected three designs for different occasions to present here from their catalog, but you can explore by yourself for more option anytime that you need to make a gift to any of your family women. All the metals and materials are hypoallergenic and don't contain nickel. This manufacturer offers excellent customer service at any time, to fix any problem that you may have with your order.
This first one that I selected is another pretty gift for both mother and daughter, a necklace with a lovely dedication to a mother and a daughter's love for each other.
It is a handcraft EFYTAL sterling silver jewelry, and your delicate skin will not prove any itchy, red, or green color on it. The chain is strong, it will not break on your neck, and the manufacturer will replace it for you whenever that you needed it.
It is long about 19 inch, and if this length is not enough for you, the EFYTAL will adjust it for free. You can order it as a gift for any woman's occasion, birthday, or Christmas, Thanksgiving, mother's day, woman's day, etc. It is a high-quality product made in the USA to last a lifetime.
It comes with a gift bag, tissue paper, and a notecard, the useful items to assemble and prepare a perfect gift in just a minute.
#7. Mom 2 Daughters Necklace, Three Interlocking Infinity Triple Sterling Silver Circles
My rate
The second one that I suggest from Efytal is a beautiful necklace gift for all the mothers that are blessed to have two daughters. This Sterling silver necklace with these three infinity circles shows the strong relationship between the mother and her daughters. It confirms that a mother's love is forever, and nothing can change it.
Like all the EFYTAL products, it is 925 Sterling Silver, high-quality material, and a handcrafted jewelry piece, made with love. It also is a hypoallergenic material without nickel. You will not have any skin issues wearing this design. It comes with a beautiful protected package for your necklace and with a bag gift and note card for a sentimental surprise to your dear mother.
The length of the necklace is 19.5 inches, but if you want it longer than EFYTAL will adjust as required for free.
#8.EFYTAL Generations Sterling Silver Necklace for Grandma and Mother Gifts
My Rate
The third design that is lovely and with a strong message on it is Generations Necklace. It is mainly a gift for the grandma, from her daughter and granddaughter, but it can be a beautiful gift from any of them. You can make your grandmother happy with it, and she will appreciate it. The three interlocking circles in this design show your love and the strong relationship between the three of you. Making it a gift for your grandmother is a reminder of your grandmother's strength, and that you are always there for her and each other.
It is a hypoallergenic material and has all the high-quality features like the other EFYTAL designs above. It is 19 inches long, and in case you will need it longer, the manufacturer can replace the chain for free.
It also is a product to last a lifetime. It comes will all the packages and items to make a beautiful gift.
The manufacturer offers high qualifies customer services to fulfill your requirement every time.
It can be a gift for the mother, daughter, and grandmother for the birthday, Christmas, Mother's day, and any other occasion.
---
8 Mother To Daughter Gifts
#1.Engraved Inspirational Bracelets Personalized Gift for Mom, Daughter, Granddaughter, Sister, Best Friend, Women and Girls
My Rate
This beautiful silver bracelet is a sweet gift for a daughter, encouraging her with the motivational quote.
Remember whose daughter you are and straighten your crown.
It is a strong message for anyone that finds herself in difficulty, disease, loss, or a bad situation. It is a nice gift for a woman's birthday or mother's day. The bracelet is premium 316L stainless steel., and it is long 6.3 inches, with a diameter of 2.5 inches, and a width of 0.32 inches.
It has 90 days of full money-back guarantee or free exchange, and it is a high polished and oxidation-resistant product, bright and shiny, and it never rusts or gets tarnished.
Every mother or daughter will satisfy with this present and the message that is in it, and you will pay for it at an affordable price.
It can be a gift for many occasions, like a birthday, graduation, season holidays, Thanksgiving, Christmas, etc. This bracelet is a great gift idea for both daughter and mother, best friend, sister, wife, girlfriend, coworker, grandma, etc. It is a high-quality material, and the bracelet comes in a gift box.
It is an inspiration bracelet, and you can wear it easily and comfortably, and it is adjustable for your wrist.
I recommend making your order carefully to not make a mistake at the quate. There is 34 option that you can choose for any occasion and any woman in your life.
#2. Photo Frame with a Mother to Daughter Poem Praising Her for Being a Good Mother
This one is another symbolic gift from the mother for her daughter. It is a photo frame for your best memory mother and daughter photo, and on the other side is a beautiful mother's prayer. The message in this prayer is that the mother is proud of her daughter. The poem is from Patricia E. Veit & Personal Keepsakes. You can read it in the product description before order it. It is a nice gift for any new mother, that loves to create great memories for her daughter while she's growing up. The photo frame dimensions are 4×6 inches.
The product is rushed silver metal frames with a glass front and black velour backing, and you can place it on the table or any lovely place in your home.
The manufacturer also offers the same design for a gift from the dad to his daughter.
The only issue in all two cases is that you can not change the message on the frame, so the prayer text can not be modified if you like another one.
#3.MADISON GRIFFITHS Sunflower Love Letter to My Daughter Ultra-Soft Fleece Bed Blanket
My Rate
If you are looking for something like that, then this blanket from Madison Griffiths with a beautiful sunflower and message printed there from the mother for the daughter is one of the best choices that you can do. The letters are clear, and the sunflower is bright and pretty. It is warm and ultra-soft for every cold fall and winter day, and it comes in small (50×40 inches), medium (69×50), and large size (80×60), to choose for any age and occasion. It is suitable and comfortable for beds, sofa, travel, camping, etc. The manufactures offer three kinds of dimensions that you can select, for a warm present, for a child, adult, or parent, and grandparent.
The material is 100% Premium Flannel Fleece, resistant to shrinkage and wrinkling. The blanket is machine washable but does not bleach it. It can dry fast, and it is easy to use daily, does not shed.
It is perfect for your lazy day, to keep warm and soft all the cols seasons. Its softness will make your little ones feel so cozy every time.
#4. DAOCHONG Store Necklace in 925 Sterling Silver 
My Rate
The DAOCHONG Store is another one that you must visit and consider for a daughter gift, and also find any other women present idea. This necklace is in silver with the dedicated message for a daughter, but you can also purchase similar designs for a mother or sister. With it, you express to your daughter how special is every moment that you spend with her and how blessed every mother is to have her daughter in her life. The necklace is S925 sterling silver, high polish finishing, and free from Nickel, Lead, and Cadmium. It is a beautiful gift for the daughter's birthday, Christmas, graduation, or any congratulation occasion. The pendant size is 0.56*1.1 inches, and it comes with an 18″ strong and resistant box chain. The colors of the stone available are blue, purple, and white. The manufacture offers high professional customer services to help with any issues that you may have. The necklace comes packaging in a beautiful box, including a pendant, a chain, and a silver cleaning cloth. The closure of the chain is a spring clasp.
#5.Cottage Garden Box of Wishes for the Daughter, Woodgrain Jewelry Music Box 
My Rate
This one is a beautiful jewelry box that comes in an elegant woodgrain finish. It is a kind gift for a daughter, and it perfectly fits with the classic charm interior of your house. The box dimensions are 8x6x2 inches, and the artwork can replace with 4×6 inches of your photo. It comes with You Are My Sunshine melodic tune, a beautiful and lovely dedication to your sweet daughter. The jewelry box is carefully worked with a black interior velvet-lined interior cushions your precious treasures, for keeping your jeweler in a curated place. It also comes with decorative feet to protect your home tables or shelter surface. It has a Metal holders support velvet photo backer, and the hinges keep the lid upright when opened.
The gift comes in protective packaging for safe shipping. It is ready to give to someone special. The manufacturer offers to replace it for free if you are not satisfied, or the music box doesn't play.
#6. Willow Tree Close to me, Sculpted Hand-Painted Figure
My rate
A lovely gift is this Willow tree sculpture, which brings the strong sentimental message: Apart or together, always close to me.
The sculpture is a hand-paint resin figure ft, 8 inches high, and ready to display on a table, shelter, or any lovely place. This figure expresses the connection between the mother and the daughter, and it can use as a gift for both of them. It gives the strong message that near or far, mother and daughter are always close to each other. This figure carves from the artist Susan Lordi in his studio in Kansas City, and this piece is part of Susan's original carving and painting. Tree sculptures express love, closeness, healing, courage, hope, emotions of a life well-lived. It comes packed in a fitted box with an endorsement gift card.
#7. Aveeno Baby Daily Bathtime Solutions Gift Set to Nourish Skin for Baby and Mom, four items
My Rate
This Aveeno package with four items for the baby care and nourish of his skin is a great gift choice for both a baby and a new mother with sensitive skin. Pediatricians and dermatologists highly recommended these Aveeno products. The products are toxins-free, and in each of them free of Dyes, Parabens, Phthalates, Steroids, Formaldehydes, Fragrances, PEG, and Drying Alcohol.
It includes the eight fl. oz baby no-tear and hypoallergenic shampoo that keeps your little one skin hydrated and not dry in daily use. The package comes with a tear-free Aveeno Calming Bath with lavender and vanilla essential oils to help naturally relax the baby before sleep time. Another helpful cream for your baby's skin is the tube of hypoallergenic, fragrance-free Aveeno Baby Daily Moisture Lotion that is clinically proven to moisturize for 24 hours to help soothe and relieve baby's delicate, dry skin. The three items come in 8 fl. oz each. The last one is a 12 fl. oz Aveeno Stress Relief Body Wash bottle that combines natural colloidal oatmeal with scents of lavender, chamomile, and ylang-ylang oils. It is a soap-free cleanse that is gentle enough to use on sensitive skin. All these products can also use by a new mother that breastfeeding her little one and want to use soap-free products on her skin.
All four Aveeno products come in a pretty package for a beautiful baby and mother gift.
#8.Writing Journal, Personal Diary, Lined Journal, Travel, 6×8.75 Notebook
A diary is an inspirational gift for a girl that loves to write, so your little one writer will love this elegant personal writer's notebook. It has a unique design in Faux Leather, and it is a pretty gift for your daughter's birthday, graduation, Christmas, travel, etc.
This gift comes with a beautiful quote and dedication love message from the mother for her daughter to encourage and inspire her creativity.
The quote "To My Beautiful Daughter, If I could only give you one thing in this life, I would give you the ability to see YOURSELF how I see you every single day. Your BEAUTY, your KINDNESS, how HAPPY you make me, and how PROUD I am of you. Perhaps then you would be able to understand just how SPECIAL you are to me. I LOVE YOU, Love Mom".
The cover design of the diary is an elegant Tree of Life design that is liked and appreciated by anyone. The product comes in a high-quality paper for easy use and allows the writer to write on both sides. It comes in a lovely handmade Teravex gift bag to make your gift more special for a daughter. The notebook offers 96 sheets, 192 lined pages to write and memory every special moment of the writer's life. It is also perfect for teen girls, offering the right size 8.5×5 inches for great writing results.
Mother And Daughter Activities
I want to share with you my ideas of having a lovely and happy Mother And Daughter Day, doing a lot of funny activities.
The list of activities that you can do with your daughter impacted a lot by your daughter's age, and in this article, I want to share some of my ideas for a young baby, toddler, or a little kid. There are also a lot of other factors that may impact our favorite activities. One of them is the limitations that we have from the actual Coronavirus situation, but in any case, there are a lot of activities that we can do inside and outside our home.
Even if you don't like to cook, you may have a great time trying to cook together with your daughter, preparing a simple recipe, like cookies, cupcakes, pop sticks, fruit or veggies salad, etc. If your toddler is happy cooking and painting her face with flour, you must try to give a chance yourself a cook a delicious recipe together.
This is another cool activity that you can do together. You can plant your favorite flowers, or herbs, or seeds that become your beautiful winter and spring flowers to flourish your garden or balcony in every season. Kids love to play with soil and water the flower pots.
Going to the park and playing your favorite ball games. What do you like most, basketball, volleyball, handball, or football? Whatever it can be, you will burn a lot of fats and needs a lot of calories for that. So, be prepared to have the right energy and fulfill your toddler expectations.
Going to the beach or pool and take a lovely swimming time with your little one. Building sandcastle or other beach activities, and it will be a great time.
You can prepare a big bowl of popcorns, buy or rent the DVD of your daughter's favorite movie and watch it together on your TV.
There is a lot of activities that you can do with your daughter in this category. Just organize and buy before the products that may need for what you like to do with your daughter, and I'm sure that you will have a great creative time.
Although your daughter may be too young to go to the SPA center, you can have a relaxing time at home, having a relaxing bath, or doing hair masks, etc.
You can do some shopping online if you don't prefer to go to a mall, or you can have a fun time trying your existing outfits and dress up with them.
Dancing and listening to music
Kids love to dance and jump all the time. You can have a lovely time dancing to your favorite songs.
You can also have a quiet time, reading your little one favorite books, or watching your family pictures. You can talk to your little one and share the memories of when she was a young baby and all the journey that you have done together until now.
You can have a great time painting. Just a few of imagination and you can paint great colors together.
You can ride a bike together, have a run, or a walk. Nature is a great thing to explore, and kids love to learn and see new things.
Did you choose your favorite activities and the perfect gift idea?
I can go on like this with many other activity ideas. We need to organize and dedicate our time to have a great day with our daughters. As you see, there are a lot of things that we can do inside and outside the home, and I'm sure that you also have a lot of other and new ideas for National Mother And Daughter Day. Can you share with us your activity ideas?
And about gifts, I want to say that they are great and not expensive gifts for any occasion. Let's make lovely gifts and share the love with our kids.
Thank you for stopping by. I wish you a great time!
Alketa