Hello dear parents,
I hope you are doing well, taking care of your little ones, who, I am sure, are growing up so fast the last summer.
Are you looking for a funny costume for your little one daily activities? Then, have a look at these 15 Funny Baby Halloween Costumes to consider for your choice. When we talk about character costumes, one of the most typical days is Halloween. But, Is only Halloween that we need a character costume for our kids?
Related Article – Halloween Arts And Crafts For Toddlers
What Are Funny Baby Halloween Costumes?
A Baby Halloween Costume is a beautiful character costume that makes your little one looks funny on it for every activity and theme. It is not only during Halloween activities that our kids can wear amusing costumes. But, an entertaining costume is a nice look to choose for our kids, pretty, comfortably, and above all fun.
To Summerise, A Baby Costume can be a lovely and fun dress, jumpsuit, or costume for a birthday, school activities, character theme parties, Thanksgiving, holidays, or daily use.
Why Do You Need To Buy One Of The Funny Baby Halloween Costumes For Your Little One? What To Look Before Ordering It?
As I mentioned above, in my opinion, a Halloween costume can use and wear widely and not only for this day. Most of the family costumes companies design and make character costumes inspiring from this Holiday. Also, they try to offer year by year better quality and new designs and patterns. So, to find the best products and what you are looking for in funny Baby Costumes, one of the best ways is to consider the Halloween costumes theme.
Although Halloween, Thanksgiving, or Christmas need some other weeks to come, we start to think right now for the right gift for our kids. One funny and cute gift that any toddler or kid likes most is a new character costume. Except wearing on these holidays,
a character costume is a cute outfit for making some good memories realizing a photographic set with one of these themes.
Furthermore, the best thing is that we can find them of high quality, and it is not an expensive gift. So, we can buy for 10, 20, or 30 bucks a beautiful, soft, comfortable, and high-quality product that meets all our criteria for a happy occasion in our family.
By the way, I think that the investment is worthy to see our baby happy, smiling, and looking so cute wearing his favorite character costume.
What To Keep In Mind Before Ordering
The size chart- Most of the baby costumes are true-to-size products. Anyway, you need to consult the size chart, reading the manufacturer recommendations and instructions carefully. So, do not order a baby costume based on your toddler age or clothing size.
Comfortably – The product must be practical to wear and use, easy to put on and off, and most significant for your baby to feel cozy inside it in daily use.
Design- The design must be cute and funny for your baby's age. Also, You need to consider if the material is the right one for cold or hot weather.
The cost, the product's price must be following your budget.
Shipping and Return Policies, It is better to consider free shipping and free return of the product.
If you want to learn more and explore the list below, stay with me, and learn more about what I found through many designs in Funny Baby Halloween Costumes this September.
"As the owner of this website, I've tracked down great deals for the products and services mentioned herein. When you use the links on this page to make a purchase, I may get a small commission, and you may get a worth bargain. It's a win-win all around. Thank you for supporting this site. FYI- Prices and Terms of the products refer to the date of the publication of this article. Full disclosure."
Best Funny Baby Halloween Costumes
Do you like to wear your newborn baby like a lion in these season holidays? Then, this cute baby lion character costume is one to consider for your choice. To summarise, It comes in five pieces in total, including the lion hat, lion suit, lion booties, and a toy zebra to play and have fun all around. Also, The costume and toy meet the US toys standard, which means it is safe and test-approved for your little one.
The lion costume is easy to wear, durable, and with a diaper change option. As well, it seems a beautiful character costume to gift. Your little one can enjoy every character pasty, like birthday, Halloween, Thanksgiving, Safari theme party, daily activities. Furthermore, the costume is lightweight, in a premium quality material, breathable for every daily activity.

You can order this funny costume in four sizes from 6-12 months, 8-12 months, 18-24 months, and 3-4 years old. For the smaller size, the manufacturer recommends that a baby wear it from 12 months and up. Reading other parents' questions and comments, it seems that the smaller size will fit even an older baby of 15 months. Whatever, you can turn it back for free.
Pros
All in one character costume set
A realistic design with funny details
comfortable to wear it everywhere
Cons
It can shed sometime
It is not the right for hot temperatures
Paw Patrol is one of the most loved and beautiful kids serials, and after the newest movie, I think every kid will love a Paw Patrol character costume. This one in Rubie's Paw Patrol Marshall is funny, cute, and you can even find it in a toddler size. In few words, you can order it in a toddler size for 12-24 months old and in a small size for three years and up kids. Also, it is better to consult with the size chart and not order it based on your kid's age.
If you like to explore more in Paw Patrol characters, have a look here. You can find your favorite character costumes in Paw Patrol for all the family members. Also, Paw Patrol is an officially licensed product, based in the USA since 1950.
Turning back to our Marshall jumpsuit, it is an officially Paw Patrol costume including long sleeves dalmatian printed jumpsuit, with a front in red and the marshall red hat with long ears. It is cute, and your little one will feel like in a Paw Patrol mission. Your baby can wear it for season holiday activities, school activities, Halloween, birthday, or daily.
No city is too big, and no puppy is too small.
Pros
A USA and family-focused brand
Certified and high-quality product
A character costume for every kid's activity
Cons
The material is very thin. not the best for cold weather
The Baby Shark doo-doo-doo is one of the songs and musical motives that our kids enjoy singing or playing during infancy. Every baby and toddler loves to wear a Baby shark costume. In few words, this one from the Rubie store is one of the cutest and most bought from the parents as a gift for their little ones.
Also, the product is like you see in the picture, in high quality. So, it comes in a beautiful yellow color, with a tail, dorsal and side fin shark shoulder back. As well, the shark teeth-lined face opening hood makes it seems so true.
The product comes in a pull-on closure for easy put on and off. It is 100% polyester material. Furthermore, this shark costume is a true-to-size product. Anyway, it is better to consult the chart size before ordering. It is available in three sizes, infant, toddler, and small size. To summarize, your kids can choose this baby costume from birth up to ten years old. It is a funny choice for holiday activities, baby character parties, Halloween, or daily use.
Pros
An officially certified baby shark costume for kids.
A beautiful baby costume to coordinate with other family members' shark costumes.
A USA family brand since 1951
Cons
The youngest babies may need help to play the song
Mary Had a little lamb is another life motive that even mums sing with little ones. This Lamb costume is funny and beautiful for your toddler. You can order it for the size 6-12 months and 12-24 months old. Also, this pretty baby costume is all in one, with a cute lamb dress with a tutu skirt, a lamb hood, booties, and pink tights.
The hood is in soft and comfortable material, with a bow and floppy lamb ears, to show the beautiful lamb face of your baby. It is one of the best costumes for your baby girl for every baby party in character costumes. As well, it can be a nice look for Halloween, birthday, daily, season holidays.
Pros
A funny character costume for many character theme parties
The beautiful choice for baby girl
It fits well, a true-to-size product.
Cons
The details may come off after getting wet.
In my opinion, Frozen is one of the most liked classics from kids. And, this funny costume of Olaf's character is a beautiful unisex choice for this season's character theme parties. On snowing days, one of the most pretty activities is to make a snowman.
Kids love so much this period of the year, and wearing a snowman costume can be part of the funny things to do for our kids. The toddler size is the right for kids from 12 -24 months old. The other costume size is for an infant 12-18 months old. The jumpsuit designs in a foam overlay, and the hood part is soft and comfortable to wear.
Pros
A product of Disguise brand, an international company since 1987
Lightweight costume for easy wear
A true to size baby costume
Cons
It is not very snug for cold weather
The sleeves may be tight
It is another funny costume to buy for this Halloween. In few words, it is a new Princess Paradise baby costume, which likes much for this season. Also, the baby costume was licensed from the Mandalorian by Lucasfilm. You can order it for your little one from the sixth month and up.
The baby costume included a fleece robe with headpiece and baby Yoda plush. As well, it comes in high-quality. Furthermore, you can combine it with other Star War character costumes to coordinate with other family members for a funny character theme party.
Pros
Comfortable and soft quality baby costume
High quality at an affordable price
It fits true to size
Cons
It is not the best choice for hot temperatures
#7.Carter's Baby Halloween Costumes
This Carter's baby costume is an avocado design, cute and unisex, suitable from 3 months of age up to the kids of age 6-7 years old. Also, you can also find a lot of other cartons or varieties design by Carter for your baby's Halloween party or another costume party.
As well, the carter costume is true to size, and you can order the usual size that you mainly order for your baby clothes. It is 100% material microfleece, perfect for warm and cold weather. Furthermore, It is easy to get on or off from your baby and easy to take care of it. It is machine washable. This avocado design consists of three pieces, and you can find them at various prices from $8 to $85, depending on your baby size and how available it could be in stock.
Pros
Carter is a known and high-quality brand that offers children's clothes and shoes from 1865.
The costume is soft, for both cols and warm time
It is simple to wear and get off, helping by a hidden zipper on the costume front.
It is machine washable and can dry very fast.
Cons
Sometimes, you can not find all the suitable sizes in the stock.
This cute astronaut costume from Aeromax is a beautiful gift from anyone that loves NASA, Space, Costumes, Pretend Play like an astronaut, etc. Also, it is suitable for the youngest baby 6-12 months, 18 months, continues with the youth size 2/3, 4/6, 6/8, 8/10, up to the age of 12-14 years old. Aeromax made this costume like a real astronaut costume for every baby and kid. Furthermore, It is one piece costume to ensure commodity and protection for your little one.

As well, for the babies, the costume is made in soft fleece material and is comfortable. It is 100% cotton, without pockets for maximal protection, and with snaps for the diaper change. This product size is intended for ages 4-12 months, and it fits with children that are high 22-29 inches and weigh 14-20 pounds.
From the age, 18 months in the costume included the embroidered cap and additional patches. They are available in four colors and designs, pink, orange, white, and apollo 11, but for the age 12-14, you can buy the costume in orange and white colors only. Aeromax also offers the astronaut adult costume.
Pros
This costume is a realistic design with maximal attention on the details for any space's lover.
It is a high -quality and durable design. Machine washable too!
It is suitable for seven age sizes.
It offers a real working zipper and pockets.
Cons
This costume is not suitable for the age 0-3 months
It was perfect that the costume comes with boots and helmet like a real astronaut.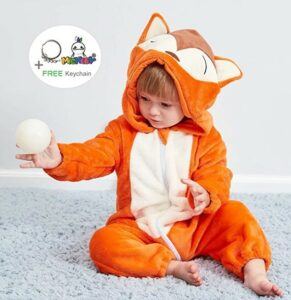 The Michley knows how to attract our eyes, creating these beautiful baby rompers in nine different character animals and suitable in many sizes. They made this unisex baby costume in six sizes from 0 to 36 months old, separated by six months each of them.
As well, It is cozy, soft, and breathable, made on flannel material, it is warm and comfy for all the autumn and winter days. Furthermore, every animal design comes in the 3D hood with two little ears on the side, make it looks like a real animal, and your little one looks cute wearing it.
Also, it is easy to put on and off, with a long zipper in front, and it also goes to the back for a simple diaper change. The romper is machine washable, and you can wash it many times at about 40℃, and it will remain the same soft and comfortable. Also, It recommends cleaning your fist before wearing your little one. The product is true to size, and almost 75% of the parents declared that it fits perfectly to the size.
Pros
It is the perfect gift for many occasions, Halloween, Birthday, Christmas, and other season gifts.
It is warm, cozy, and comfortable for all the winter days, at an affordable price.
It is easy to wash and dry.
It is a practical costume for every day, and you can find it in many sizes and designs.
Cons
It does not recommend for warm weather.
It is not suitable for more than 36 months.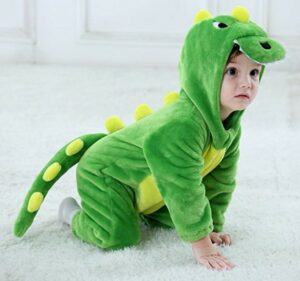 If your little one has the favorite animal character, and you are looking for a baby character costume then you need to make a stop at Tonwhar costumes. They offer ten beautiful designs, and you can choose your baby size because they are suitable for baby birth, 0-6 months, up to 36 months old, separating each size by six months of age. T
Also, this green dino costume is cute and is 100% flannel lining and cotton. It is a unisex, high-quality product, made of breathable and soft material, thick, warm, and comfortable to wear.
As well, It is machine washable in cold water, easy to dry, and keeps its shape. The costume has a long front zipper, and it is easy to put on and off, and for the diaper change.
Furthermore, It comes in long sleeves, and it is perfect for the Autumn, Winter, and Spring season. The costume is for any occasion in your family, Halloween, birthday party, Day-Care activities, play a role, etc., or just for beautiful photography set for the best memories of your little one.
Pros
A high-quality product for any occasion.
It is soft, comfortable, breathable, and will keep your little one warm.
A unisex costume suitable in six sizes.
A true to size, and more than 87% of the parents confirm that fact.
It is one piece romper, light to wear, and diaper changing.
a cool gift idea for every little kid.
Cons
It is not the right choice for Summertime or hot weather.
The baby costumes from Hsctek are cute and funny, and you can order them for any baby's age. Briefly, they are one-piece jumpsuit costumes and can wear both from a baby boy and a baby girl and designed for a newborn baby, an infant age, or a toddler. Also, your baby girl or boy can find your favorite costume through the eight 3D carton designs.

As well, If you live in cold places, or you want this costume to use during Halloween time or other party costumes during the autumn and winter, this is one you must choose.
Furthermore, It is a very thick design costume, and the outside part of it, made of 90% Polyester and 10% Spandex, microfleece, fluffy and warm. And the linen fabric for the inside part is 100% cotton that keeps and protects your delicate baby skin everywhere that he will wear it.
With it, your baby will feel comfortable and soft, but at the same time, you can put on or put off from your baby quickly because the front zipper closure makes this process simple. And the snap crotch helps for the diaper change. All the costumes match with the character's shoes to keep your little one feet warm. The only thing that I want to highlight is that you need to wash the costume carefully.
Pros
A cute and funny costume for Halloween and more parties.
The Hsctek Baby Halloween Costumes are warm, soft and suitable for up to 24 months.
Safe from the fire, flame resistant, and snug-fitting.
It is light to wear, with a hidden safety zip-front design from chin to feet.
More than 70% of the parents confirm that they have bought the usual size.
Cons
You can not find your baby a suitable size for every carton design every time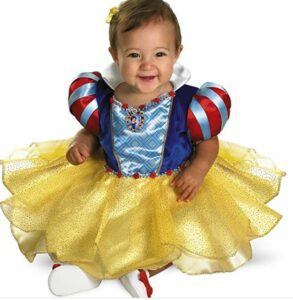 If you are looking for a cute costume for your little princess, then she can be a princess like Snow White inside this cute and beautiful dress costume. In few words, It is an officially licensed dress that your baby can dress up for a birthday party, Halloween party, or any other funny and happy time in family or with friends.
Also, it is 100 % polyester and nylon that makes it also delicate and easy to tear. You can put on and off from your child in a simple way. Also, the costume is true to size. Most than 78% of the parents that bought this dress recommended ordering as a usual size for your little one.
Furthermore, This dress is suitable for 12-18 months only. Your baby must be up to 28-32 inches in height, 19-19.5 inches in the waist, 19-20 inches in the chest, and 20-26 pounds of weight.
Pros
It is a cute character cameo dress for any party occasion.
It is a licensed product.
A true to size dress.
Cons
The shoes and the hair bow not included in the package.
It is only for baby girls and one suitable age.
If you like the Halloween elements, appreciating the Pumpkin costume as one of the cute for your little one, then this one is another Pumpkin baby costume that you must consider.
Also, It has two pieces, Pumpkin Hood and Pumpkin Face Suit, and it is suitable for 12-24 months. It is a high-quality item, a non-toxic product that meets the US Toy Standard, which means that it is Safety Test Approved.
As well, It is soft and comfortable for your child, the material is thick, and the colors are rich. The costume is warm and cozy, and any child that loves pumpkins will love it.
Pros
It is a cute baby Pumpkin costume for Halloween party, role play, pumpkin theme activity, etc.
It is a child-safe product that meets US Toy Standard.
It comes in great price and quality.
Cons
It is not suitable for a young baby and under 12 months of age.
If you are looking for a first Halloween costume for your little one, then you must have a look at this Kashger costume. Also, it comes in black and orange, for a typical Halloween party costume, and the print on the black body "My 1st Halloween" makes this costume cute and perfect for any occasion.
With it, any baby photography or party, wedding, playing outside, Halloween party, birthday party, etc. will be great memories.
Furthermore, the costume is 100% cotton, comfortable, breathable, and soft for your baby's skin. It is suitable for four sizes, 0-3 months, 3-6 months, 6-12 months, and 12-18 months.
As well, The costume includes a stretchy chiffon tutu skirt with an elastic waistband in orange color for the Halloween theme. It also comes with long sleeves and ruffled shoulders, and it has snap closures at the bottom for easy diaper changing. It completes with striped leg warmers for the baby girl and a headband. It fits perfectly, and your little princes will look so cute wearing it.
Pros
It is a cute and beautiful costume for your little one first Halloween.
It is breathable cotton for a soft and comfortable dress.
You can use it in warm or cold weather.
It is beautiful for any special occasion in your family.
The customer service will help you with any questions that you may have about it.
Cons
It is suitable only for a baby girl.
The IDGIRL Baby costume is cute and comfortable for any occasion. Also, this cow animal design is a warm and fluffy baby romper, but you can find your favorite animal costume through nine character designs that they offer for your little one. It is soft, breathable flannel, high-quality, natural, and organic bamboo material, and it is perfect for pajamas, rompler, costume, jumpsuit, etc.
As well, the suitable sizes are six, and they start at three months old up to 36 months old. Also, you need to consult the chart size before making your order. It is not only a cute animal costume but warm and soft for every cold day.
Furthermore, the product is safe for your child, has no allergy to baby skin, and is a strong material for long-term use. It has a double zipper for easy change of the diaper and putting on or off from your child. As well, the embroidery design makes it unique and exquisite. It offers feet for a growing room and to wear all kinds of cute socks that your little one prefers.
Pros
A high-quality product, soft, warm, comfortable for any occasion.
It is from organic and natural materials and the best technologies.
The company guarantees the product quality, accepting six months unconditional refund.
A machine or hands washable under 30℃, and Cleaned Shop.
The costume is suitable for Halloween, Thanksgiving, Christmas, daily wear, or a gift.
It offers a flexible safety zipper to protect your delicate baby skin.
Cons
It is not so right for warm places.
It is not suitable for the 0-3 months old.
A Baby Costume For Thousand Baby Smiles
In the end, I hope that this article has been helpful and you have a clear idea now about some cute and funny costumes that you can find in the market and buy for your little ones. And keep in mind, a happy smile of your angel is your best reward for the job that you are doing as a parent.
Dear parents, If one of these Funny Baby Halloween Costumes can make your baby happy, don't leave this article without taking action. It is just a click on the button, and you will learn more about the daily offer on Amazon. And, if the price and product satisfy your criteria, I think that it is worth buying it for your little one? What do you think?
You are welcome to leave your comments in the form below. I appreciate knowing from you.
Best
Alketa