Hello, new parents,
Are you looking to improve the sleep quality, concentration, relaxation, etc., of your little one and all your family? If your answer is yes, keep going and read this article and learn more about the Best Sound Machines For Sleeping this year.
Some of the questions that you may think to have an answer before choosing a sound machine can be:
Which are the Best Sound Machines for Sleeping?

Are they a helpful tool for baby sleep?

What must we know before buying a sound machine for our baby? 
Below, I will try to give you an answer to these questions and a helpful list of the ten best devices with detailed information and an honest review of each of them. I wrote this article to help new mothers, offering useful information on these products.
If you like it, please continue reading this article to learn more about it.
You can also read the below similar articles about your little one sleep.
"As the owner of this website, I've tracked down great deals for the products and services mentioned herein. When you use the links on this page to make a purchase, I may get a small commission, and you may get a worthwhile bargain. It's a win-win all around. Thank you for supporting this site. FYI- Prices and Terms of the products refer to the date of the publication of this article. Full disclosure."
Sound Machine for Sleeping – A Helpful Friend for New Mothers
Every new parent wants to help his baby with healthy sleep, and he is in the research of any nursery baby product to improve his little one sleep and safety.
When you are a new parent, many questions and dilemmas come to your mind, and you want the full information about any tools and useful product for the baby. What about the sound machine, is it helpful?
Yes, the sound machines are useful for a longer sleep and better wellness in every family.
The sound machines offer a variety of sounds and tunes that help people for better sleep and wellness. Listening to music doesn't just mean following the passion for it, but above all, the music helps you live healthier. Classical music or nature-like tunes recommended for all ages. The white sounds help the babies for a healthier brain. Music is appealing as part of the therapies for curing illness in children, too.
As you may know from my story, my pregnancy wasn't so easy. In these 38 and a half weeks of my difficult pregnancy, until my daughter was born, music and books were my best friends.
During those days, I often listened to classical music, which helped me stay calm. The music didn't help only me, but also my baby was quiet, too. When my daughter was born, I used for better sleep lullaby of the great classics like Mozart, Brams, Beethoven, and she liked it because she listened to this music since she was in my womb. Some of the lullabies I've learned to sing are the easiest way to make her fall asleep.
Why sound machines created?
The sound machines are a useful product not only for a good sleep but also for our better concentration, in our work, study, relaxation, yoga and spa time, etc.
For the help and improvement that these devices offer to our health and wellness, you will find old and new designs with many helpful features and good quality and price that remain the best and most liked by all parents.
The sound machine can use at home, in the office, in traveling, in SPA, etc., to block every disturbing environmental noise to us. One of the main reasons that we buy it is for better sleep for our baby. They recommended to help baby sleep since the first days of baby's life, but like any other thing related to our babies, the period of listening to music, soothing noises should be controlled by us. Although babies are familiar with the noise since they are in the womb, we must protect them from noise pollution and loud noises. Listening to music for a long time can damage the hearing aid in young children. For this reason, many new designs offer as a feature for easy use adjustable volume, auto-off timer, and can mask the outside noise for better sleep and wellness.
How to choose a sound machine? What should we keep in mind?
Before buying the product, you need to make sure that this product will be helpful and convenient to you and your family. I'm listing below some of the sound machine characteristics to help you know before choosing and buying your next sound machine.
The sound machines must offer many options of use in our family, like baby sleep, private time, the concentration at the work, or study, spa, yoga, traveling, etc.
To feature a variety of sounds for any age and relaxing situation.
To be portable and easy to fit in any bag.
To have an auto-off timer option.
To have a good quality of sound.
To have a good quality of the speaker.
To have an adjuster for the volume.
To have a battery option for better use.
To have the night light option.
To have a product warranty.
10 Best Sound Machines For Sleeping
#1.Letsfit Sound Machine
Letsfit sleep sound machine is one of the best sellers in this product category in the market, being one of the most liked and helpful for many families.
It offers 14 soothing sounds for a better sleep environment for all, kids and adults. It features three white noise, three lullabies, one fan sound effect, two clothes dryers, and five relaxing natural sounds.
The constant sound of white noise creates an optimal sleep environment for a baby or a toddler. It has an adjustable night light that distinguishes it from the other designs of the same brand. The device masks unwanted noises to help the baby or toddler and everybody else in the family to rest and sleep longer. So, it can avoid disturbing noises from loud neighbors, snoring partners, street sounds, chatty coworkers, and more. It is also a night light for your bedroom or baby room, helping new parents for easy feeding and diaper change without disturbing the baby's sleep. The timer function can adjust playing the sounds continuously or by interval 15 min, 30 min, 60 min, 90 min, and 120 min. The memory function will restart the last sound and volume that you play last. It features a pretty design, and it is also small and portable for traveling. It has an adjustable volume button in case you will need it. It Measures from 35dbs at its lowest to around 75dbs at its loudest.
#2.Homedics White Noise Sound Machine
This Design from Homedics is the best seller of this brand, and it offers helpful tools to improve not only your baby's sleep. It helps every adult at home and office, through six nature sounds, it gets better the quality of the relaxation for everyone. The sounds are digitally recording, and you can choose through white sound, ocean sound, thunder, rain, summer night, and brook. Each sound can control by a separate button, and the volume control button helps to adjust the volume level as you desire. Every sound mimics the natural environment to secure the most relaxing experience and help your baby sleep longer and better.
It is portable, lightweight, and compact to take with you to your traveling location and easily fits in every purse, bag, or suitcase. It also features the auto-of-timer button for playing the sounds continuously or stop the sounds for 15 min, 30 min, or 60 min. The six sounds are helpful for your reading time, work, study, and sleep. You can use it with four AA batteries or an adapter. It is a high-quality product, with 30 days money-back guarantee.
#3.The Magicteam Sound Machine
It is one of the best top sound machines for sleeping, working, yoga, and spa. It offers you and your little ones 20 non-looping natural sounds and 32 levels of volume to adjust and fit the right one for the occasion. You can choose through White noise, brown noise, pink noise, blue noise, fan, brook, rain, ocean, bird, and bonfire to help and relax your baby for better sleep and to improve your relaxation at your home or office, as you prefer. It is a unique and portable design, easy to keep and take with you in traveling, and it features adaptive sound technology for the perfect sleep. It can work and power by USB or AC. The device fits all the safety standards, and FCC, CE, and RoHS approve it for the security terms to rest calm and use it safely every time. It also features the timer set to play it continuously or play from one to five hours, separated by one hour. The memory function helps you to replay your last sound, volume, and timer.
#4.LectroFan Adaptive Sound Technologies White Noise Sound Machine
LectroFan is one of the best sound machines from years in the market. It designs in the USA, and it comes to you with high quality and 100o days of guarantee. It offers 20 unique non-looping fan and white noise sounds for perfect relaxing, concentration, and sleeping time for everyone. It works and power with an AC plug or USB one for safe and simple use.
The ten fan sounds include a large fan, industrial, mellow fan-lo, mellow fan-hi, exhaust, attic, circular, vent, box, oscillating fan.
The ten white noises that will block your disturbing environmental noises are brown, chestnut, cinnamon, tan, amber, cream, pink, coral, champagne, and pure white. Your little one will sleep longer and better. The volume button will control the right volume level for you.
#5.Marpac Dohm Classic | The Original White Noise Machine
The Dohm Classic is one of the best designs in the market on fan-natural sounds for sleeping. It belongs to two generations, and for over 50 years, the Yogasleep offers a high standard in white noise machines. It designs in the USA. It has a natural soothing sound from a real fan, and can cancel every noise, helping to relax, concentrate, and have the best sleep ever. You can customize the tone and volume in two-speed levels adapting to the environment and noise level in your room, office, etc. It is perfect to use for kids, adults, and even for sensitive dogs. It is simple to use, and you can power it by AC plug six-foot-long and 120V. You can switch the button to use it and to find the best sound for you by rotating the cap and collar on the top. It is available in six finish colors, white, gray, pink, black, tan, and camo, and you can also choose to buy it in the package in one, three, five pieces, or with the travel case.
#6.The Dreamegg Portable White Noise Machine
It is a new design of Dreamegg, presented in the market in the second half of 2020, and it is one of the best sellers of this brand. It is a portable white noise, which helps you to create in every moment the right environment for your baby's sleep and soothing. It features a small design but features 11 soothing sounds, a night light to help with your baby feeding and nursery. It is only 3'4 inch in diameter, easily portable in the diaper bag, stroller, etc. You can customize the light brightness, timer, volume level and lock the device from the child's use. It is efficacious not only for the baby's sleep choosing through five different soothing sounds, like lullabies, shushing, vacuum cleaner, fetal tone, music box but also for every adult. Every parent needs a healthy sleep too, so fun noise, ocean noise, white noise, fair sounds, brook, and cricket are the choices to help for better sleep. It features 32 volume levels to create the right environment for your baby and you. The device works with a Lithium-ion battery, which is rechargeable or USB use. It is small, and no cord needs to use. The only issue is that it does not feature a timer. It is a good trainer and helper for your baby or toddler sleep and a high-quality product with up to one year of warranty.
#7.SNOOZ White Noise Sound Machine
Snooz is a beautiful and helpful device for better sleep for all in the family. It offers a real fan sound, peaceful and non-looping, white noise with noncold air offering for the best sleep result only the natural southing sound of the moving air. You can easily adjust the volume and tone. So, it offers ten-volume settings, and you can use the touch button on the surface to set as you like. You can also fix the tone by rotating the outer shell of the device. It also features a comparison APP, available for iPhone and Android. It includes a remote control, on /off program schedule, nightlight mode, and nursery calibration for healthy sleep for your baby and to protect his ears. It is a portable device and easy to keep with you in any place. It is a great choice to improve your sleep in any noisy area, like loud neighbors, city street noise, office privacy, tinnitus, snoring, barking dogs, and noisy hotel rooms.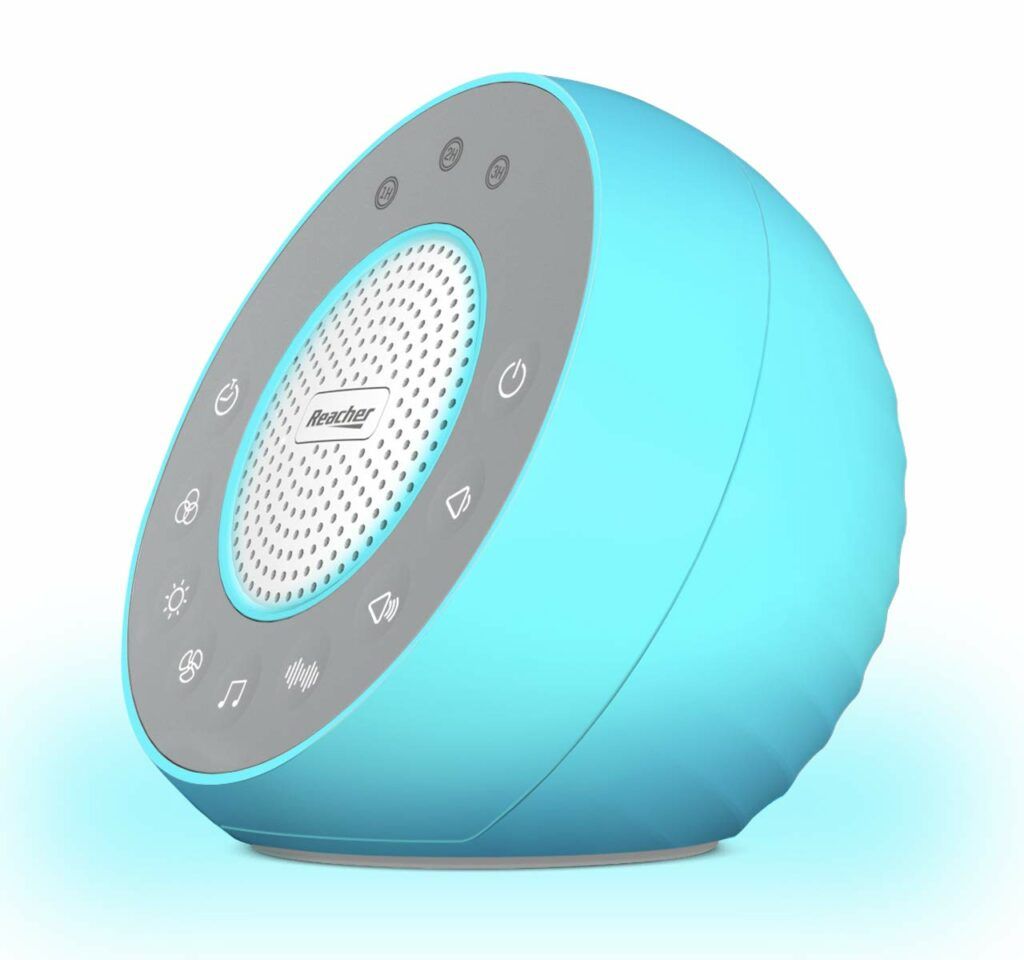 #8.REACHER R2 White Sound Machine
Reacher is a sound machine and a night light, and you can use it separately or both the night light and the sound as you like and need. It features 31 soothing sounds, eight colors of dimmable night light, and three auto-off timers.
It is one of the best in the variety of sounds. It features seven kinds of noises, from white to brown, and seven different fan sounds. The 17 relaxing nature sounds are beautiful to relax and offer tranquility to you. They are gentle waves, lullaby, summer night(crickets), music box, rain, campfire, ocean waves, fetal, pendulum clock ticking, train, forest(birds), stream, thunderstorm, heartbeat, drip-drop, wind, and shush. It is simple to customize, choosing a favorite sound, night light color, and the right volume level. The timer can set to turn off automatically every one, two, or three hours. The volume levels are 15 in all and efficacy to block the outcoming noises.
It produces sound loud enough to block and mask outside noises to help you and your little ones sleep better or focus on your work more. The light is bright enough for you to find your way around your bedroom at night. It works and powers with an AC power adapter or USB cable included in the product package. The adapter and USB cable lets you plug into an AC adapter or any 5V output device easier. The shell is made of PP material and is safe for the baby. R2 also features a headphone jack on the back for use in public spaces. It is not a portable device, and it does not have a timer alarm function.
#9.Anescra White Noise Machine
t is a new design released in the market during the second half of 2020 year, and a lot of customers give positive feedback for it. It is two in one item, a sound machine and a night light for comfortable use. It offers 24 Hi-fi Southing sounds (7 white noises, seven fan sounds, and ten nature sounds)being in this way, usable and helpful for every environment, baby sleep, home, work, study, etc. It has three categories of sounds, meditation, heartbeats, and shusher, and the night light makes it one of the best for your commodity during the night.
The night light is an adjustable soft and not harsh luminous LED lump, which offers seven different colors for a cozy sleep and practical usage. It is a travel and portable design with, built-in battery that gets charged automatically and can work up to 20 hours. It has an auto-off timer within three timer options by 30 min, 60 min, and 90 min or running continuously. It also offers a memory function, remembering your last set of light, sound, and volume level. The machine is a safe and certified item from CE, FCC, and RoHS and built-in nontoxic, fireproof, and odorless material to keep your kids and family safe during its usage.
#10.TaoTronics Sound Machine
This TaoTronics sound machine is another new product, presented to the customers only three months ago, and it offers a lot of helpful features being one of the best for this year. It is both a sound machine and a night light. You can enjoy its 25 soothing sounds, from lullabies, fan, white noise, rain, stream, cuckoo, being so useful and helpful for sleep, work, etc. In general, it features ten nature sounds, seven animal sounds, and eight sleep sounds. As a night light in your room or baby room, it features a warm and soft night light, which you can adjust and control by a button, offering the perfect light for your baby's sleep and soothe. At the same time, you can feed and change his diaper easily. This design is convenient to an APP control, available for Android 5.0 or higher, iOS 9.0 or higher, permitting you to control and customize remotely via 2.4 GB WiFi. You can control sound, volume, light color, brightness, sleep module, or lock the device from your child. It is a smart voice device compatible with Alexa or Google Home, helping you to turn on/off light and adjust the brightness using your voice from every area of your home. Within it, you can create a training sleeping schedule for your toddler or every family member. It comes in this period with a 51% discount, and for more, you can check the price by yourself.
Conclusion – Best Sound Machines for Sleeping (reviews)
This article is for any parent that wants to make the best choice for the next White Noise Sound Machine for Sleeping. These designs that you have found here features good quality, and most of them have a handy price and a long term warranty.
You can find here from the smaller and portable devices, simple ones or compatible with an APP. You will find here some of the best latest designs of sound machines in the market, and some old ones that continue to be the best ones for years.
If any of these sound machines meet your criteria, then do it as a gift to yourself and your little one for a cozy sleep. Don't leave for another moment and check the price today for each of them. You have nothing to lose.
Thank you for reading this article, and I hope this list of these ten Best Sound Machine for Sleeping reviews is helpful for you.
Please, feel free to leave any comments or questions in the form below. I'll be back to you soon. You are welcome to share this article with your friends. I appreciate it.
Thank you for your time.
Stay Safe!
Alketa