Hello friends,
This article is about 12 beautiful and cherish Family Matching Christmas Pajamas for this Season Holiday.
Christmas time is family time. This year was not easy for many of us, and with this pandemic time around, one of the most beautiful time and hopeful is Christmas time. Christmas brings for our families many enjoyable moments with family and friends, sharing love, and the spirit of Christmas, gifting and caring for each other most than ever.
"As the owner of this website, I've tracked down great deals for the products and services mentioned herein. When you use the links on this page to make a purchase, I may get a small commission, and you may get a worth bargain. It's a win-win all around. Thank you for supporting this site. FYI- Prices and Terms of the products refer to the date of the publication of this article. Full disclosure.
You can also have a look at similar articles related to Christmas.
One of the things that I love and enjoy at Christmas is spending time with our lovely family, caring that everything to be in Christmas harmony and theme. And this is also valuable for the sleeping and resting time. One of the product categories that make our Christmas memories even more particular is the matching pajamas family set for Christmas.
The matching family pajamas are so cute and beautiful for the Christmas memories in the Christmas morning family picture around the Christmas tree, lounging on movie night, gift-giving traditions, and breakfast with Santa, having the opportunity to wear the same colors as our children and our pets, too.
Let's go through this list and find out some of the most beautiful and high-quality designs and patterns to buy this Christmas.
12 Beautiful Family Matching Christmas Pajamas
#1. Shelry Store Matching Family Christmas Boys Girls Pajamas Striped Kids Sleepwear Children Clothes.
It is a beautiful pattern by Shelry Store, a best seller on Dog Bandanas pattern in white and red stripes, in 100% high-quality cotton suitable in sizes for all family members. You can order easily for every adult, kid, boy and girl, pets, and you will pay only a low cost of shipping for all family order items. It is warm, soft, cozy, and comfortable to wear. You will have a classic Christmas design for Christmas morning and all the holiday time this Christmas in your family. It is true to size pattern, and you can order as you usually do. For the children's sleepwear only, it recommends ordering one size or two up to have the snug-fitting size.
#2.MyFav Matching Family Christmas Pajamas Set Soft Cotton Clothes Sleepwear
It is lightweight Christmas pajamas, 100% polyester, soft, cozy, and snug-fitting. It is perfect for the whole family, and you can order your sizes as you required for dad, mom, kids, boys, girls, and toddlers from two years old. The design of this Christmas Family comes in unique prints and graphics, such as Christmas Tree, Striped Deer, Christmas Deer, and Polar Bear to order and enjoy this Family Christmas memory with these sweet winter-themed family pajamas. The pajamas are warm, soft, comfortable to wear, a perfect one for every Christmas moment, and memory in the family. It is a high-quality product at an affordable price.
#3. Burt's Bees Family Jammies Matching Holiday Organic Cotton Pajamas
This design by Burt's Bees is one of the most liked, 100% organic cotton, and comfortable to wear with pull on closure. You can find the matching pajamas in this pattern for adults, newborn babies, kids, and pets. Most of the sizes are available next month, to arrive for Christmas in your home. It is in hand-drawn prints created by Burt's Bees in-house designers. The product is machine washable.
#4. Christmas Family Matching Pajamas Set by IF Family Store
It is a beautiful design with a Christmas tree and "It's the most wonderful time of the year" writing print with long sleeves shirts and long pants. In the set, you can order sizes for dad, mom, young babies, boys, and girls. It is a classic Christmas design for a festive atmosphere of Christmas, perfect for family Christmas's morning picture. The pajama design is comfortable to wear, soft, with a crew neckline, and with an elastic waistband for easy putting on and off. It recommends checking the size chart before ordering it, and regarding the kid snug-fit, like the other pajamas designs, you need to order one size or two up. It is machine washable and hand washes if you prefer so.
#5. PajamaGram Family Pajamas Matching Sets – Matching Christmas PJs for Family
It is one of the best designs and most liked by the PajamaGram brand, a best-seller pattern that was preferred and enjoyed for many Christmas by a lot of families. It is a Family pajama set in high-quality material for the whole family, from adults, kids, and pets. They come with a simple order for all families and in free shipping for Amazon Prime members. The design is easy and comfortable to wear with an elastic belt closure. The product is safe for our kids, and each sleepwear is snug-fit and flame resistant.
#6. The WESIDOM Christmas Family Pajamas Matching Sets
This design of Christmas matching pajamas by Wesidom store is one of the most liked by families. It comes in a different of presenting the family for Christmas, with a Bear printing on the long sleeves top and classic plaid paints. The material is soft, warm, and comfortable. They are suitable for dad, mom, kids, and newborn. It is perfect for Christmas family time, family pictures, and it also is a beautiful Christmas gift to gift this Christmas for your family. Each pajama must order separately, and the pajamas don't have any pockets. It fits as expected, true to size product, so go on and buy your usual size.
#7. Matching Family Pajamas by CoralBee Store
This red-green Christmas stripes design comes in all family sizes, for adults, kids, boys, girls, newborn babies, and pets. Pajamas are in two pieces, a red top in long sleeves and long pants with red and green stripes. They are beautiful for every Christmas memories and family pictures. They are perfect and comfortable for a mid-winter season, with a soft and high-quality material in 95% cotton and 5% spandex jersey. It is a snug-fitting style for the kids and flame resistant for our kid's safety.
#8. The iClosam Matching Family Pajamas Set Striped Christmas Pajamas
It is a beautiful design by iClosam Store in high-quality fabric, offering a super soft and comfortable wearing. It comes in two pieces, the red top in long sleeves with "Believe in Christmas" writing and elastic ants in white and red stripes. The top is 65% cotton and 35% polyester, in crew neckline, and you can choose from three colors in this pattern: red, black, and green. The product is true to size, and before ordering, it recommends to check the size chart. It is a beautiful pattern for Christmas memories in the family, to enjoy together every Christmas moment. It is perfect for Christmas morning pictures.
#9. The SANMIO Christmas Family Pajamas Matching Sets
It is a new design and pattern for 2020 in Matching Christmas pajamas offering sizes for adults, kids, and a newborn baby. It also comes with a promotional code for this Christmas. Every pajama needs to order separately. The product is in high-quality cotton and polyester, offering soft, comfortable, and stretch wearing. The design is beautiful for Christmas time, with Christmas print in the long sleeves top and red plaid Christmas pants, which make this set perfect for Christmas time, Christmas morning, Christmas Eve, and family memories.
#10. PajamaGram Family Pajamas Matching Sets – Nordic Fleece Christmas Onesie, Gray
If you like and are looking for a footie pajama design for your Christmas family time, then this one is a beautiful and warm Onesie Gray pattern by PajamaGram Family. This pajama set in snowflakes design for everyone in your family, even for your pets if you have one. They are in a hoodie and footie style for cold season, warm and comfortable, with a zip-up fleece closure for easy wearing and with deep kangaroo pockets. The material is fade-resistant, flame resistant, and of high-quality.
#11. Doaraha Matching Family Pajamas Sets
It is a new design, launching only the last October to present to the families for this Christmas. It is a festive design with Christmas elk printed in long-sleeved tops and Christmas pattern printed pants. The style is for all family from adults to kids, including newborn babies. Each item must order separately. The material is cozy and comfortable, skin-friendly, breathable, and soft to wear and sleep with them. It comes in high-quality with an upgraded design for this Christmas with a 100% satisfaction guarantee.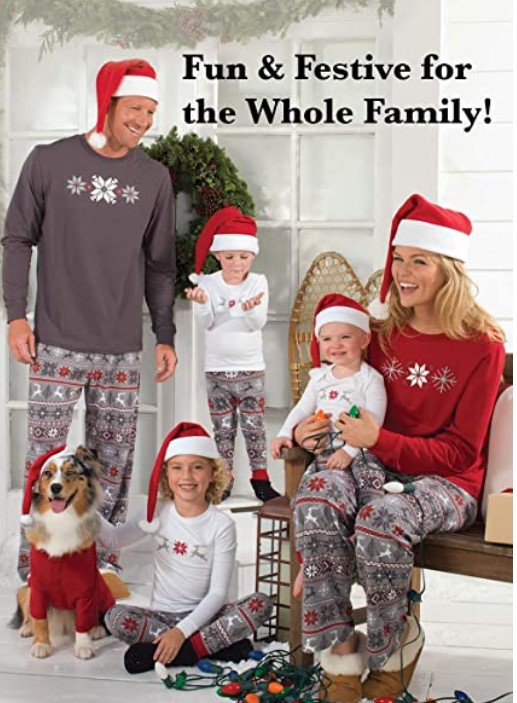 #12.PajamaGram Family Christmas Pajamas Set – Soft Cotton Family Pajamas, Gray
It is a beautiful Matching Pajamas pattern from PajamaGram Familyto choose for this Christmas. It is an Amazon Choice product, in high-quality and price, warm and cozy for the season holiday. This design includes sizes for all family members, from adults, kids, babies, and pets. Like all the PajamaGram patterns, this one is fade and flame resistant, easy to order for each size of your family members, free shipping if you are an Amazon Prime, and you will pay a low cost of shipping in other cases. It is warm for the cold season and perfect for the Christmas morning moments and a family picture.
Conclusions
At the end of this article, I want to add that the spirit of Christmas must be present to every one of us, and living happy memories with our family and friends fills us with joy and hope for the coming days. The Family Matching Christmas Pajamas is a beautiful gift, and at the same time, at an affordable price. We do not need to spend too much to gift and make our lovers happy, but gifting with heart and sharing positive feelings, being hopeful and joyful for a better future.
If you like or enjoy reading this article and find it helpful, please do not hesitate to share it with your friends, and I will appreciate if you share your thoughts about it with me. I welcome you to let a comment or questions below.
I wish you all a blessed time with your family this Christmas.
Alketa